USS Ford Completes Shakedown Trials
The next-generation supercarrier USS Gerald R. Ford has completed her first phase of sea trials, and is entering a post-shakedown availability at Huntington Ingalls' Newport News yard. The shipyard period will allow her builders to correct several engineering problems identified during the carrier's first year since commissioning.
The $13 billion carrier has suffered four reported propulsion casualties, including two main thust bearing failures in April 2017 and January 2018. General Electric has acknowledged that the bearing failures resulted from defects in manufacturing. She also suffered a turbine failure in 2016, and in May, she was forced to return to port due to a propulsion system issue stemming from a "recent design change."
While she has had difficulties, she has also shown progress, according to the Navy. Over the course of the year, the ship has operated for 81 days at sea in seven separate sailings. Ford also completed fixed-wing aircraft/helicopter integration testing, air traffic control center certification, JP-5 fuel system certification, daytime and nighttime UNREPS demonstrations, ship's defensive system demonstration, and Dual Band Radar (DBR) testing. The service emphasized that Ford has successfully completed system testing for all of its launch and recovery equipment, including nearly 750 shipboard landings.
USS Ford's first launch under way, July 28, 2017 (USN)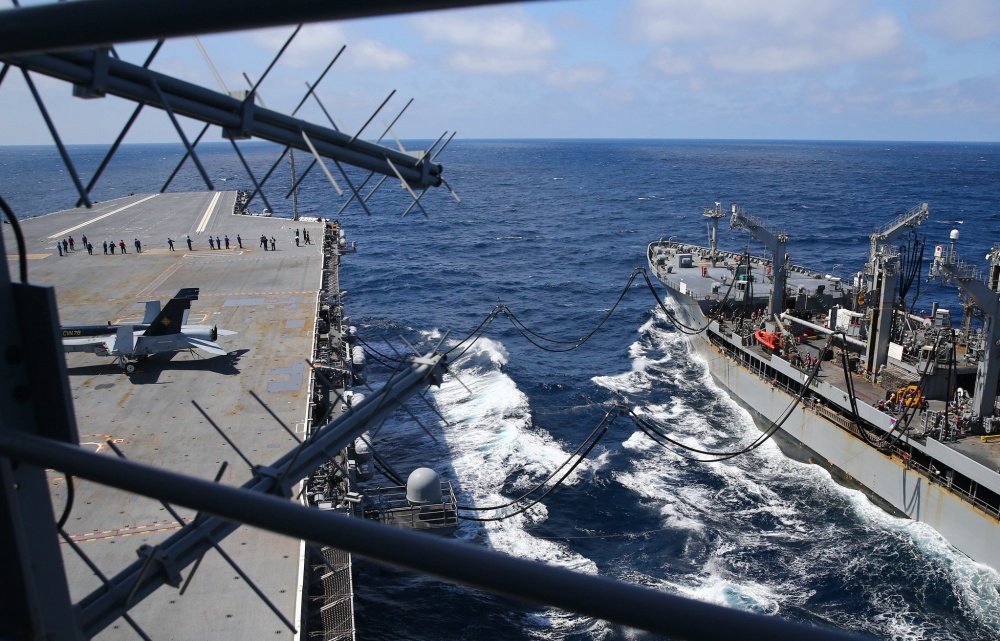 Crew of the USS Ford conduct UNREPS (USN)
Ford is the first in her class, and the service notes that she was always expected to have some systems fixed during testing, just like previous generations of advanced surface combatants. In a statement Monday, USS Ford CO Capt. Richard McCormack highlighted the crew's role in solving first-in-class commissioning challenges. "Sailors are the lifeblood of any warship and the men and women of the USS Gerald R. Ford are the best that our Navy has to offer," said McCormack. "There's a sense of pride that comes from watching the crew rise to the occasion time-and-time again, in the face of engineering, technological, and manning challenges that are common with any first-in-class ship."