USS Fitzgerald Will Return to U.S. for Repairs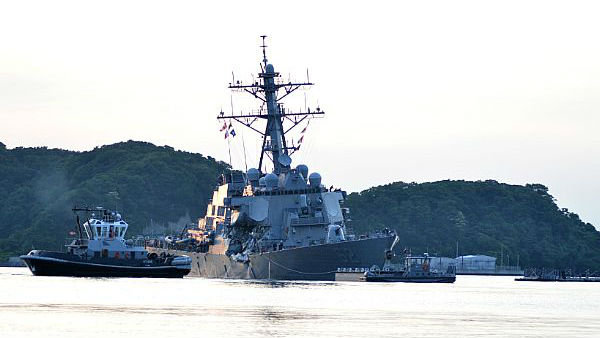 The U.S. Navy is making preparations to drydock the damaged destroyer USS Fitzgerald at Fleet Activities Yokosuka, Japan, for evaluation and temporary repairs.
The collision on June 17 between the Fitzgerald and the container vessel ACX Crystal left a hole in the warship's hull measuring about 200 square feet, according to Defense News. Flooding took out her radio room and an engineering space, severely degrading her capabilities. The full effects of the impact on her hull and superstructure are not yet clear. Seven crewmembers were killed in flooded berthing areas and three more were injured, including the destroyer's commanding officer.
Navy officials say that they are planning to make enough repairs to enable Fitzgerald's return to a shipyard in the United States, where more extensive work can be completed. They have not yet determined whether she will be able to cross the Pacific under her own power. In the past, the Navy has often chosen to transport damaged combatant vessels aboard semi-submersible ships, as in the USS Cole and USS Samuel B. Roberts incidents.
The U.S. Navy retains control over the investigation of the events aboard the Fitgerald prior to the collision, and Navy officials have agreed to share information with other maritime agencies. The service is not expected to allow access to the Fitzgerald's crew, despite requests from Japanese authorities. At least six parallel inquiries continue, including U.S. Navy, U.S. Coast Guard, Japan Coast Guard and Philippine investigations.