USS Fitzgerald Returns to the Water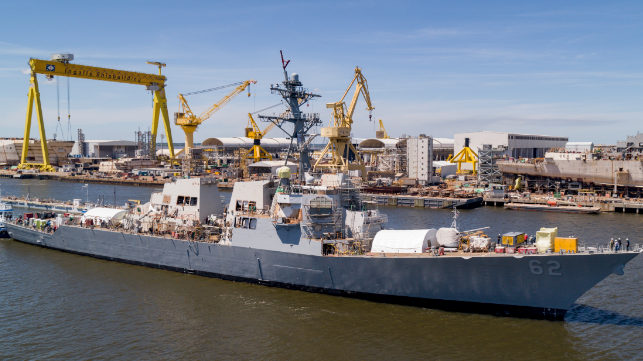 The collision-damaged destroyer USS Fitzgerald has returned to the water. On Tuesday, she was successfully re-launched and moored alongside the pier at Huntington Ingalls Industries' yard in Pascagoula, Mississippi.
The launch reflects more than a year's worth of effort in restoring and modernizing the destroyer, which was badly damaged in a collision with the container ship ACX Crystal in June 2017. Navy salvors completed temporary repairs to her hull at the Yokosuka dockyard in Japan, then loaded Fitzgerald onto a heavy lift ship for transport back to the United States. Since her arrival in Pascagoula in January 2018, work has focused on restoring the integrity of her hull and topside structures.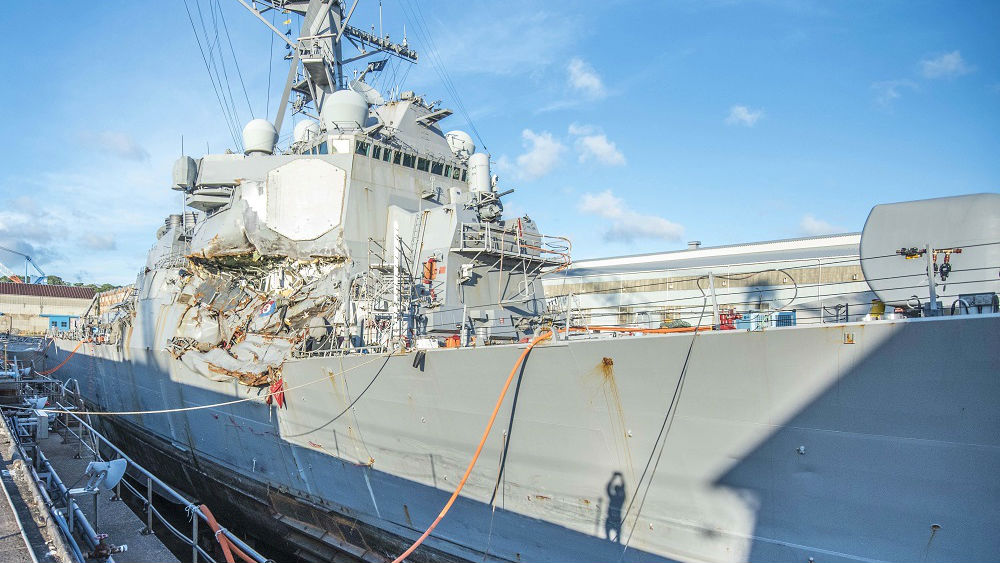 Damage to the USS Fitzgerald's topsides; the temporary repair patch is visible amidships below the waterline (USN)
Now that Fitzgerald is alongside the pier, the yard will continue repairing her sophisticated ships' systems, including hull, mechanical, combat, comms, sensing and intelligence systems. She is simultaneously receiving modernization upgrades, so some of her damaged equipment can simply be replaced with improved devices. Her radar and her electronic warfare suite are both slated for replacement, according to the Navy.
"This undocking is a step forward and brings us that much closer to getting Fitzgerald back out to sea - where the ship belongs," said Cmdr. Garrett Miller, Fitzgerald's current commanding officer. "I'm proud of this crew's hard work over the past year and look forward returning to the fleet with enhanced warfighting capability and lethality."
The USS Fitzgerald collision claimed the lives of seven sailors and caused hundreds of millions of dollars in damage. Two months later, the Seventh Fleet destroyer USS John S. McCain suffered a similar collision with a merchant tanker off Singapore, which claimed the lives of ten more sailors. The twin accidents prompted a long review process aimed at improving the surface fleet's readiness - especially at forward-deployed commands like Japan-based Seventh Fleet.
Last week, the Navy dropped all criminal charges against the USS Fitzgerald's former commanding officer, Cmdr. Bryce Benson. The judge presiding over Benson's court-martial determined that the Navy official in charge of investigating the accident, Adm. James F. Caldwell, had made public comments which interfered with Benson's right to a fair trial.