USMMA Capital Funds May Be Diverted for Sea Year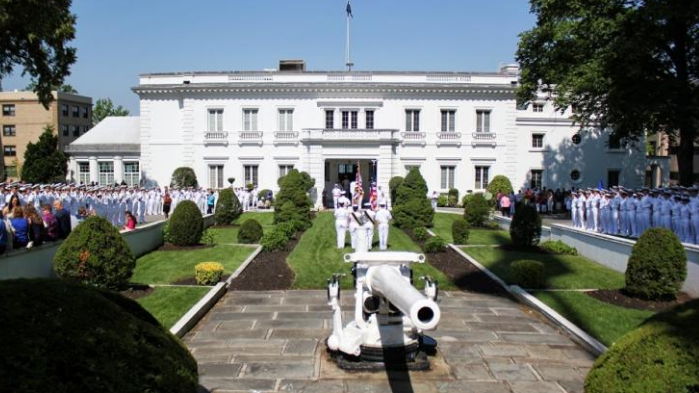 The House Appropriations Committee's latest continuing resolution would allow the Maritime Administration (MARAD) to redirect the U.S. Merchant Marine Academy's capital improvement funds to pay for student training at sea.
The resolution permits federal dollars intended for "facilities maintenance and repair, equipment, and capital improvements at the United States Merchant Marine Academy" to be diverted to pay for "costs associated with the midshipmen Sea Year training program," without limitations.
MARAD has previously said that it is incurring extra costs due to the suspension of training placements aboard commercial vessels and the need to find alternative berths. In June, MARAD and its parent agency, the Department of Transportation, ordered a "stand down" for the Academy's longstanding Sea Year training program, citing concerns about shipboard sexual harassment, sexual assault and intimidation; they have since reinstituted training on government vessels, but the "stand down" of Sea Year on commercial ships will continue until the completion of an external review.
To graduate from USMMA, midshipmen need at least 300 days of sea time, and without billets on commercial ships, MARAD has had to find extra berths for midshipmen aboard federally-owned vessels. The agency says that it has placed USMMA midshipmen on vessels of its own Ready Reserve Force (the maintained, ready-to-go portion of the "mothball fleet"), on naval auxiliaries operated by Military Sealift Command and on training ships operated by the state maritime academies.
In October, MARAD indicated that the extra cost associated with placing midshipmen on federal vessels was in the range of $1 million during FY2016. Sea Year was suspended on June 17, and FY2016 ended on September 30, indicating that this cost covered three months of the year. The agency wrote that it was still too soon to estimate the cost for FY2017.
It was not immediately clear how much funding MARAD would reallocate from facilities to training under the new language (if the resolution is enacted into law).
About a quarter of the MARAD budget request for USMMA in FY2016 was allocated for capital improvements and repairs, an amount totaling to $25 million. This appropriation funds a multi-year capital improvement program to rejuvenate USMMA's deteriorating infrastructure, which then-Secretary of Transportation Ray LaHood announced in 2010. The academy has made great strides over the past five years, renovating its dormitories, upgrading its water mains, rebuilding its piers and overhauling its sewage handling systems; however, as of the Academy's latest update, major capital improvements were still under way, and it was not immediately clear what effect a reallocation of funds would have on the ongoing repairs.
As of December 7, MARAD had not yet responded to a request for comment.
Additional modifications to funding rules
The new appropriations language also removes a clause requiring USMMA to formulate an academy spending plan and submit it to the House and Senate Committees on Appropriations. Under the existing language, a spending plan is required before the release of half of the academy's federal funding.
The resolution's language would also allow MARAD to redirect any remaining prior-year amounts from the Student Incentive Payments (SIP) program, which pays eligible state maritime academy cadets a stipend of $8,000 per year.
Alumni association calls for full reinstatement of Sea Year
The U.S. Merchant Marine Academy Alumni Association and Foundation has been actively involved in the public response to the Sea Year suspension; its representatives have even commissioned a separate external study of sexual assault / sexual harassment at USMMA.
In reaction to news of the altered funding language, Captain James Tobin, the association's president, said that Sea Year must be fully reinstated on commercial ships.
"If [the reallocation] is to recoup the expenses incurred by the Sea Year suspension, we have no objection. If this is being done to fund the costs of a continued indefinite suspension of Sea Year, we object strenuously," he said. "There is no acceptable substitute for first-hand training on commercial ships and that lack of training would substantially weaken the knowledge and experience of the midshipmen upon graduation. Federal vessels are substantially different than commercial ships in both size and purpose and by themselves do not offer a complete Sea Yea experience."