USCG Rescues 15 Passengers from Stricken Catamaran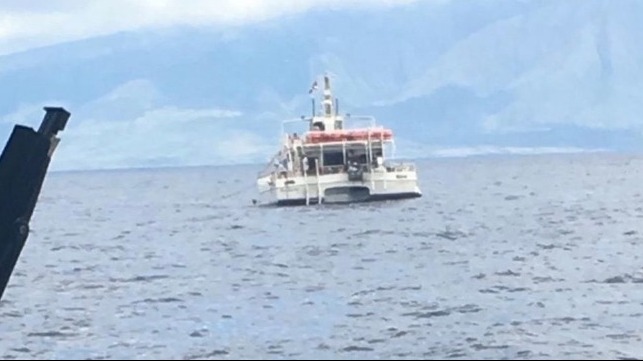 On Saturday morning, good samaritan vessels and a U.S. Coast Guard boat crew rescued 15 passengers from a catamaran after it struck a rock off Lanai and began to take on water.
At 0900 hours, Sector Honolulu received a distress call from the skipper of the passenger catamaran Kaulana. The vessel had struck a rock off Manele Bay while under way from Lanai to Maui. The master said there was a hole in the hull and that the bilge pumps were maintaining the water level inside the vessel. The vessel's rudder was also damaged, which prevented it from traveling in a straight line. The master reported that there were 15 passengers aboard, including three children.
A Coast Guard Station Maui response boat crew headed out to the scene to assist with damage control. In addition, the Coast Guard broadcast a request for assistance. The passenger vessel Quicksilver received the call and diverted to the scene, and the dinner cruise vessel Maui Princess got under way from Lahaina to help with a passenger evacuation.
Upon arrival, the Coast Guard crew transferred a responder to the Kaulana, who assisted in patching the hole in the vessel's hull and helped with dewatering. The Maui Princess arrived shortly after and took aboard the Kaulana's passengers. She then took the Kaulana in tow, and proceeded back to the harbor at Lahaina, Maui. The Coast Guard crew remained with both vessels until they enter the harbor channel. There were no reported injuries or pollution.
"We are thankful for the quick response from the crews of the Maui Princess and Quicksilver," said Petty Officer 2nd Class Alvin Seguin, a watchstander at Coast Guard Sector Honolulu. "All mariners share a common bond, and when something like this happens, it is through teamwork we reach the best possible outcome."