USCG Removes Hundreds of Boats Wrecked by Hurricanes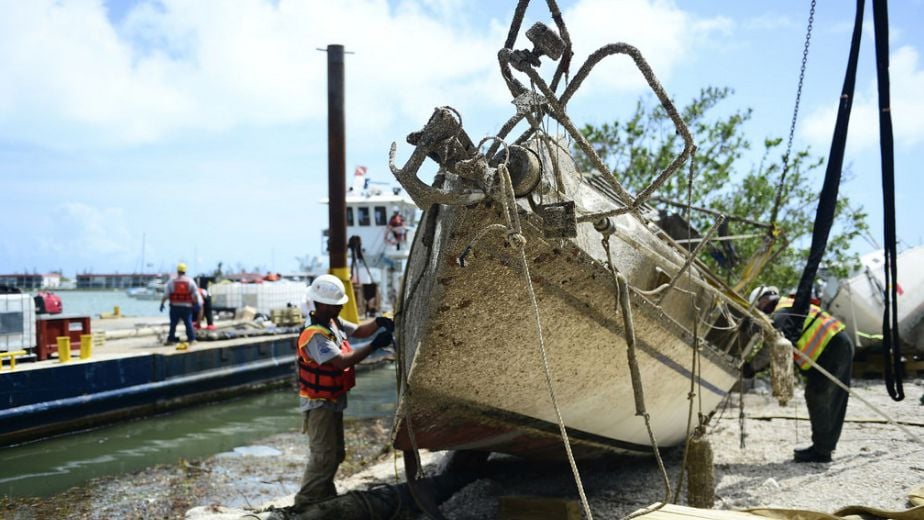 Coast Guard crews have been working with local authorities in Florida and across the Gulf coast to clean up hundreds of wrecked boats that were cast adrift or sunk during this year's powerful hurricanes. The USCG is working in concert with other agencies through a unified command structure, alongside representatives from the EPA and from state agencies like the Texas General Land Office and the Florida Fish and Wildlife Conservation Commission.
"We're working hard and we're working together to remove vessels that are causing pollution and hazardous threats to the environment," said Lt. Quentin Long, who is responsible for overseeing the removal process in the Florida Keys. "Hundreds of boats have been damaged or displaced and we're prioritizing which vessels will be removed first."
The response teams are using a variety of traditional salvage methods, from dewatering flooded hulls with gasoline-powered pumps to hoisting boats out of the water by crane. While the USCG has encouraged boat owners to hire their own private salvage teams, state and federal resources are available to help and are provided at no charge, Lt. Long said.
Florida incident commander Cmdr. JoAnne Hanson described her team's goal in clear terms, suggesting that all of the sunken derelicts pose "a threat to the environment and our mission is to remove this threat." As of October 16, 858 displaced vessels have been pulled out of Florida's waterways, and many of them were taken away by the owners themselves. "Our crews are demonstrating no small amount of dedication in the task of removing displaced vessels," said Cmdr. Hanson. "The process is made more efficient by proactive citizens who have either removed their vessels or have contacted the Vessel Removal Hotline to assist in our efforts." The boats that are removed by the unified command crews are trucked to a holding area, where they are stored in case their owners come to claim them (below).