U.S. Navy Sends Undersea Rescue Equipment to Argentina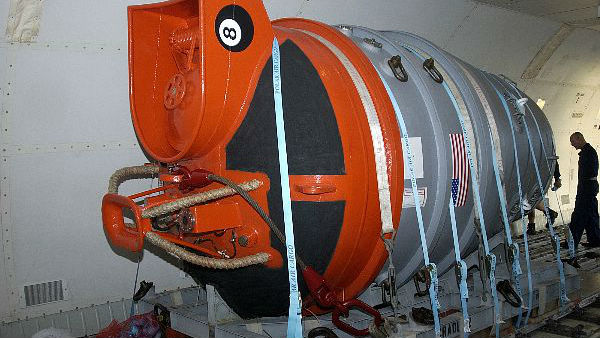 The U.S. Navy's Undersea Rescue Command based in San Diego, California, is deploying to Argentina on Saturday to support the South American nation's ongoing search for the Argentinean Navy submarine A.R.A. San Juan in the Southern Atlantic.
The San Juan has been out of radio contact with shore since last Wednesday, and Argentina has launched a search and rescue effort to find her. The San Juan and her 44 crewmembers were en route from Ushuaia to Mar del Plata, and her last known position was about 240 nautical miles off the coast of Patagonia, near the San Jorge Gulf.
The Command is deploying two independent rescue assets suited to the varying depth of ocean waters near South America's southeastern coast. Three U.S. Air Force C-17 Globemaster III and one U.S. Air Force C-5 Galaxy aircraft will transport the first rescue system, the Submarine Rescue Chamber (pictured above) and underwater intervention Remotely Operated Vehicle from Miramar to Comodoro Rivadavia, Argentina. The four aircraft are scheduled to arrive in Argentina on Sunday.
The Submarine Rescue Chamber is a McCann rescue chamber designed during World War II and still used today. It can rescue up to six persons at a time and reach a bottomed submarine at depths of 850 feet.
The second rescue system, the Pressurized Rescue Module and supporting equipment, will be transported via additional flights and is scheduled to arrive in Argentina early next week.
The Pressurized Rescue Module.
The Pressurized Rescue Module can submerge up to 2,000 feet for docking and mating, with a submarine settled on the ocean floor up to 45-degree angle in both pitch and roll. It can rescue up to 16 personnel at a time.
Both assets are operated by two crewmembers and mate with the submarine by sealing over the submarine's hatch allowing Sailors to safely transfer to the rescue chamber.
The U.S. government is supporting a request from the government of Argentina for international assistance to the ongoing search for the missing submarine and possible rescue opportunities once the vessel and crew are located.
A Navy P-8A Poseidon multi-mission maritime aircraft and a NASA P-3 research aircraft are already in Argentina assisting ongoing search efforts near the submarine's last known location.