On Saturday, October 31, General Dynamics Bath Iron Works christened the U.S. Navy's newest guided-missile destroyer Rafael Peralta (DDG 115). The ship is named for Sgt. Rafael Peralta, U.S. Marine Corps, who was deployed to Iraq in Operation Iraqi Freedom.
Peralta was posthumously awarded the Navy Cross for actions during combat operations in Operation Iraqi Freedom. While clearing houses in Fallujah, Iraq, on November 15, 2004, a Marine squad, including Peralta, entered a house where the enemy silently waited. The squad was instantly barraged with intense small arms fire.
The fire knocked Peralta to the ground and mortally wounded him. As the firefight continued, the fleeing enemy threw a fragmentation grenade into the building. Peralta absorbed most of the grenade's blast with his body, thus saving the lives of two fellow marines. Sergeant Peralta died from his wounds.
Rosa Maria Peralta, Sgt. Peralta's mother, is the ship's sponsor, and she officially christened the ship by breaking a bottle of champagne against the ship's bow.
The shipyard began fabrication on DDG 115 in November 2011, and delivery to the Navy is scheduled for 2016.
Rafael Peralta is the third of 14 ships currently under contract for the DDG 51 program. DDG 51 destroyers are warships that provide multi-mission offensive and defensive capabilities. Destroyers can operate independently or as part of carrier strike groups, surface action groups, amphibious ready groups and underway replenishment groups. DDG 113 and follow on DDGs are being built with Integrated Air and Missile Defense (IAMD) capability.
The all-steel 9,200 ton Rafael Peralta is 509 feet in length, has a waterline beam of 59 feet and a navigational draft of 31 feet. Like most modern U.S. surface combatants, DDG 51 utilizes gas turbine propulsion. Employing four General Electric LM 2500 gas turbines to produce 100,000 total shaft horsepower via a dual shaft design, DDG 51 (Arleigh Burke-class) destroyers are capable of achieving 30 plus knot speeds in open seas.
Technological advances have improved the capability of modern destroyers culminating in the DDG 51 class replacing the older Charles F. Adams and Farragut class guided missile destroyers. Like the larger Ticonderoga-class cruisers, DDG 51's combat capability centers around the Aegis Weapon System (AWS).
The DDG 51 class is comprised of three separate variants or "Flights": DDG 51-71 represent the original design and are designated Flight I ships; DDG 72-78 are Flight II ships; DDG 79 and Follow ships are built or are being built to the Flight IIA design.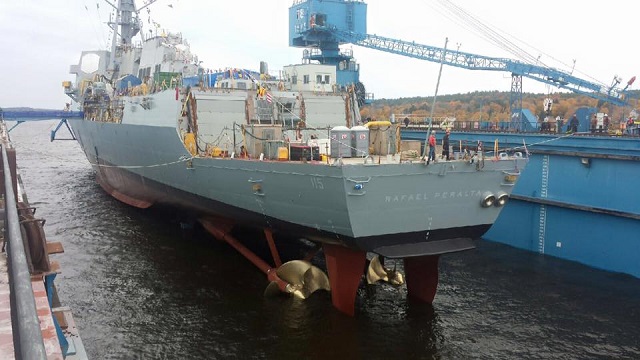 Picture credit: Facebook