U.S. Manufacturing Keeps St. Lawrence Seaway Bustling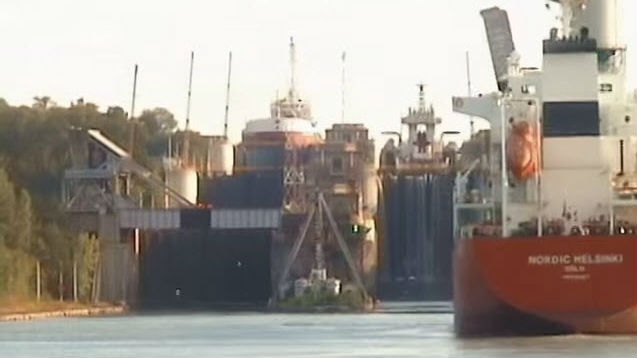 U.S. manufacturing is expected to keep ship traffic on the St. Lawrence Seaway bustling this season after a strong start for general cargo shipments through the navigation system.
According to the St. Lawrence Seaway, shipments of steel, aluminum, wind turbines and other heavy machinery were up by 5 percent to 629,000 metric tons from April 2 to May 31. Steel and Canadian aluminum headed to U.S. Great Lakes ports such as Oswego, Detroit and Toledo to be used in the thriving automotive industry. Local manufacturers also exported mining equipment via the Port of Milwaukee to Europe.
Looking ahead, U.S. energy projects are expected to boost wind turbine shipments in the Great Lakes this season. The Port of Duluth-Superior has already booked 20 ships for its general cargo dock this year, including multiple loads of wind turbine components. The Port Authority recently broke ground on its $17.7 million Port of Duluth Intermodal Project – a dock redevelopment project that will further enhance its heavy-lift and project cargo capacity.
"The 2015 shipping season is shaping up to be a strong year for project cargo. Vanta Coda, Duluth Seaway Port Authority Executive Director, said. "Customers can utilize the Great Lakes system to bypass road and rail congestion at East Coast ports to expedite delivery schedules and streamline supply chains."
While it was another late start to the season due to icebreaking constraints, grain from Canada and the U.S. continued to flow out of the St. Lawrence Seaway to export markets, totaling 1.9 million metric tons so far this season, up 7 percent over 2014. And dry bulk shipments, including road salt, coke for steel production, and construction materials totaled 1.7 million metric tons, up four percent.
Despite these star performers, year-to-date total cargo shipments via the St. Lawrence Seaway were 6.4 million metric tons, down by 7 percent compared to 2014 due to low global prices for North American iron ore and coal exports. Iron ore shipments via the Seaway were down 30 percent, while coal shipments dipped 27.5 percent compared to the same period the year before.
Stephen Brooks, President of the Chamber of Marine Commerce, said: "We're optimistic that these cargoes for the manufacturing and energy sectors along with a rush of grain exports will help offset the decreases in iron ore and coal from steep declines in global prices. These numbers are proof-positive of the importance of the Great Lakes-Seaway for U.S. trade and why we need to continue working with governments to reduce barriers and make this vital gateway as competitive as possible."