[Updated] Union Leaders Defy Court to Picket ICTSI Terminal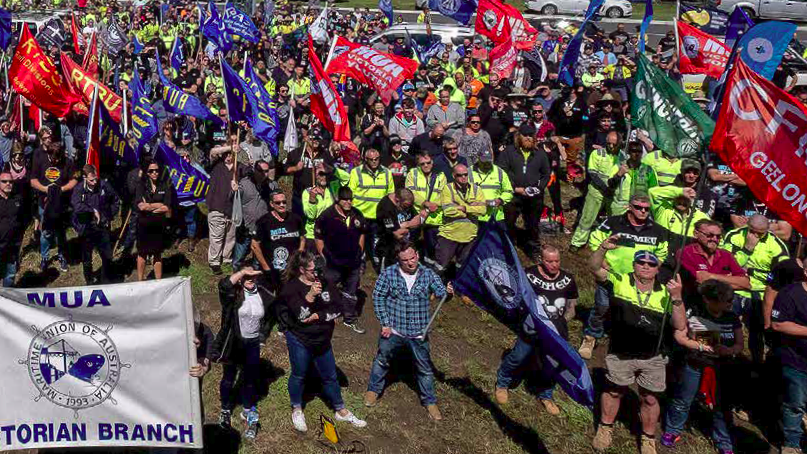 [Update: On Friday, the MUA and VICT reached an agreement to reinstate the dismissed worker's pay in exchange for an end to the blockade.]
On Thursday, top officials from the Maritime Union of Australia defied an order from the Victoria Supreme Court to end a weeks-long blockade of the Victoria International Container Terminal (VICT) at Port of Melbourne, the busiest seaport in Australia. The court order requires union members to maintain a minimum distance of 100 meters from the docks unless they are working, but leaders said that they do not intend to take down the picket line. Union national deputy secretary Will Tracey told local media that if the terminal's management seeks a charge of contempt of court, "we will take that as it comes."
The terminal is operated by International Container Terminal Services Inc. (ICTSI), a Philippines-based company that is the target of a global campaign by the International Transport Workers' Federation (ITF) over alleged anti-union policies and poor labor practices. The Maritime Union of Australia, an ITF affiliate, initiated a walkout at the Victoria terminal on November 27 after VICT terminated a union member's employment.
"We've seen ongoing dramas in Madagascar, Indonesia and Papua New Guinea and the cancer has now spread to Australia. Everyone is awake to ICTSI's destructive ways and won't cop it anymore," said ITF director Paddy Crumlin in a statement. "ICTSI's insistence on bringing its anti-worker business model to Australia is being met with the resistance you would expect from unions, politicians and the local community with an industrial dispute on the cusp of entering its third week and no end in sight."
Anders Dommestrup, the terminal's CEO, had a different view. He alleged in a statement that the union officials were picketing in order to reverse the termination of an MUA member with a disqualifying criminal record. "Those officials are trying to pressure VICT into offering work to a person who is ineligible to hold the security clearance necessary to work on docks. They are pressuring us to do something that is illegal for us to do," he asserted. The ITF's Paddy Crumlin disputed Dommestrup's account in a statement Thursday, asserting that the worker in question was granted a security clearance on December 8.
Whatever the causes of the strike, though, the terminal says that it is disrupting commerce at an important time of year for trade. "[Union leaders] have kept over 1000 containers motionless on Webb Dock, badly affecting many small and medium-sized businesses, putting perishable goods at risk, damaging Victoria's reputation as a reliable trading partner and giving Sydney's Port Botany a competitive leg-up," Dommestrup said.
His opinion was seconded by the Victoria Transport Association, an industry group for hauliers and freight operators. "This type of disruption, at this time of year, takes the industrial relations environment back 25 years. The adverse effect will be felt by people and families that have nothing to do with the MUA political agenda," said VTA CEO Peter Anderson.