Ulstein to Build World's Largest Hybrid Vessel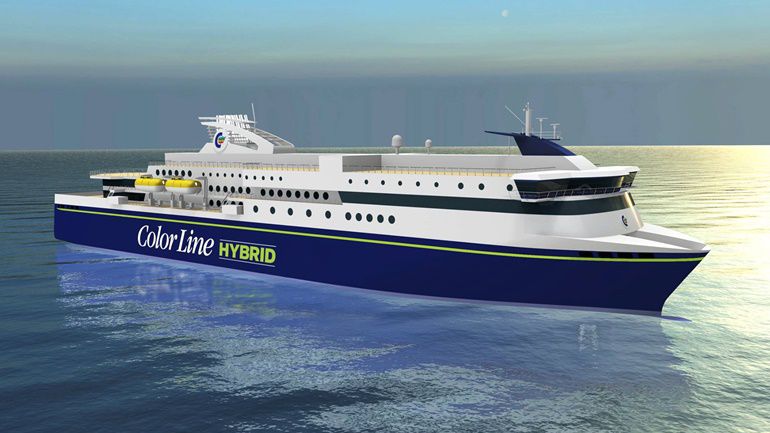 Color Line has signed a letter of intent with Ulstein for the construction of the world's largest ever hybrid vessel, the ferry Color Hybrid.
The vessel will be able to accommodate 2,000 passengers and about 450 cars, nearly twice the capacity of the ship it will replace, the Bohus. It will operate entirely on battery power in and out of the city of Sandefjord, its primary destination, and will have zero emissions during its operations within the fjord.
"Our ambition is to be a leader in European short sea shipping and Color Hybrid is a new proof of this, says Trond Kleivdal, CEO of Color Line.
Color Hybrid will be a plug-in hybrid vessel, and just like its automotive equivalent, it will be able to recharge from a shoreside electric grid. Color Line has already installed shore power at its facilities in Oslo, Larvik and Kristiansand, and with shore power in Sandefjord installed, all Color Line Norwegian ports will have shore power connections.
Hybrids come of age
Hybrid ferries are already in operation in New York, San Francisco and in Norway's Nærøyfjord basin, and more are under consideration in other locations. Industry acceptance is growing, especially in the passenger and cruise segments: Hurtigruten is building the world's first hybrid cruise ships, for delivery in 2018 and 2019, and expects that they will cut fuel costs by as much as 20 percent. In addition, Hurtigruten CEO Daniel Skjelda notes that hybrids will offer near-silent, emissions-free operations in environmentally sensitive areas.
"Battery-powered propulsion in ships this size shows that batteries are onboard to stay. This represents a huge reduction in emissions from shipping, and it is only the beginning," says Fredric Hauge, founder and president of environmental group Bellona.