Video: Ukraine Hits Two Russian Ships in Strike on Sevastopol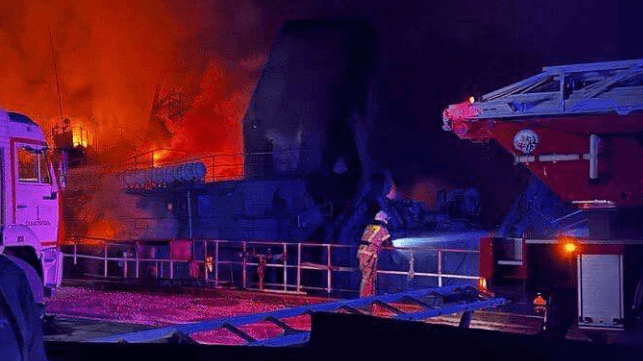 Overnight Tuesday, a Ukrainian cruise missile attack struck a strategic shipyard in the inner harbor at the Russian-occupied port of Sevastopol. Residents captured loud blasts on video and shared images of a fire along the shoreline.
Russian media sources report that the explosions occurred at Sevmorzavod Shipyard, a repair complex used by Russia's Black Sea Fleet. The yard's twin graving docks are tucked into a small inlet on Pivdenna Bay, the narrow channel where the port's warship berths are located.
Explosions and fire in occupied Sevastopol, Crimea pic.twitter.com/3UkxcTIBZY

— Iuliia Mendel (@IuliiaMendel) September 13, 2023
A # of Russian Telegram channels posted videos of explosions and a fire reportedly at the 13th Ship Repair Plant in Sevastopol, possibly from a missile strike. https://t.co/Pr645WM7Kthttps://t.co/6vKPel4yhthttps://t.co/jXTfViRBy9https://t.co/6AQB0skAdKhttps://t.co/p13j5iL0gt pic.twitter.com/Fgg1FTPKkn

— Rob Lee (@RALee85) September 13, 2023
The Russian Ministry of Defense has confirmed that two ships under repair at the yard were damaged in the strike. The city's Russian administration reported that 24 people were injured, and news footage from the scene showed ambulances driving through at high speed.
As recently as this week, satellite imagery of the yard showed a Ropucha-class landing ship and a Kilo-class submarine in the graving docks, according to open-source analysts. A photo of the scene provided by the regional governor (top) would be consistent with the superstructure of a Ropucha-class vessel.
While it is unconfirmed, naval analyst H.I. Sutton suggests that the Kilo-class sub may have been the second vessel hit by the strike.
Russia's defense ministry also reported a simultaneous drone-boat attack on a group of Russian warships under way in the Black Sea. This secondary strike was not successful, the ministry claimed.
Ukraine has not claimed responsibility for the attacks or provided further details, but the strike follows after a series of Ukrainian attacks that degraded Russian air defense and radar installations around the Crimean Peninsula. Within the past month, Ukrainian forces have destroyed a high-end S-400 surface-to-air missile complex in western Crimea and recaptured four Russian-held oil rigs in the northwestern Black Sea; the rigs had been used as Russian military sensor and observation platforms.