Ukraine Claims Strike on Russian Patrol Ship off Sevastopol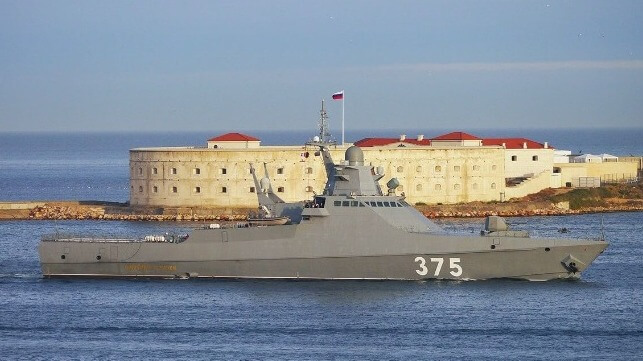 Ukraine's military intelligence agency and navy claim to have successfully struck a Russian patrol ship near the occupied port of Sevastopol. It is the latest in a series of Ukrainian strikes on Russian Navy assets near the home port of the Black Sea Fleet, and the campaign is having an effect on the force posture of the Russian military, according to Western intelligence assessments.
Last week, Ukraine's military security service (SSU) claimed to have struck the Russian Navy Bykov-class patrol ship Pavel Serzhavin at a position off Sevastopol.
"The patrol ship Pavel Derzhavin was hit for the second time and left the scene of the incident. It sailed several kilometers away. We are waiting for further actions," Capt. Dmytro Pletenchuk told Ukrinform.
Several images and videos (below) of a smoking Bykov-class patrol ship have emerged on Twitter, but the exact cause and extent of the damage are unknown.
***UPDATE***
???? 1/n

Images of apparent engagement off Sevastopol. Project 22160 Bykov class, helicopter and fast boat seen.

May relate to unconfirmed reports of #Russia ship Pavel Derzhavin damaged a couple of days ago#OSINT pic.twitter.com/38LS16lPhV

— H I Sutton (@CovertShores) October 13, 2023
The Ukrainian claim could not be immediately confirmed, but Sevastopol residents told local news outlet Crimean Wind that they heard a blast offshore at about 1000 hours on Wednesday. The Russian military has not commented on the incident.
Ukrainska Pravda later reported that a "Sea Baby" experimental uncrewed surface vessel - better known as a suicide drone boat - was used in the attack.
The outlet also reported that a second attack successfully targeted a Buyan-class guided missile corvette on Oct. 13. A third attempt was made to target the Russian Kilo-class submarine Alrosa, but was not successful.
UK Defence Intelligence assesses that Ukraine has suppressed the Russian Navy's operations in the western Black Sea, and that the Black Sea Fleet has "highly likely doubled down on its defensive and reactive posture." Many of Russia's "prestige assets" have been moved east to the safety of the port of Novorossiysk. While the Russian Navy's capabilities remain more or less the same as before the war, Ukraine's operations have reduced the odds of Russian Navy intervention in the Western Black Sea down to a "possibility" - a possibility which would come at a high price for Russian forces.