UK Police Seize $12M in Cocaine From Boxship's Sea Chest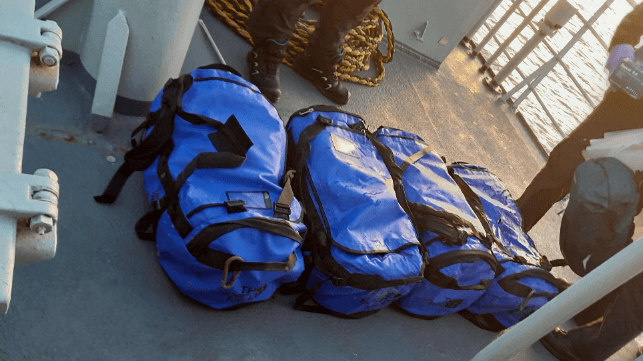 The UK National Crime Agency has seized a cargo of cocaine concealed in the sea chest of a bulker at the port of Sheerness, the authority announced Saturday. It is just the second time that British authorities have found and captured a cargo of cocaine that had been affixed to a ship's hull below the waterline, a relatively common concealment method in other localities.
The reefer container ship arrived at Sheerness in mid-October, on a regular run from the small ports of Moin, Costa Rica and Zegla, Panama. The authorities did not release the ship's name, and NCA blurred out the markings on the stern in a handout photo - except for the IMO number, 9836878, which identifies the ship as the Cool Express.
Working from information supplied by the NCA, a specialized dive team from the National Police Chiefs Council searched the ship's hull, working in limited visibility in the estuarine waters of Sheerness' harbor. They found a large cargo of drugs stuffed in the sea chest, behind the intake grate. It took five hours to remove the shipment from the cavity and get it to the surface. As in many other maritime smuggling cases in the UK, the Border Force's well-known National Deep Rummage Team helped out, and Peel Ports lent a hand as well.
In total, they brought 137 kilos of cocaine back to the surface in four gym bags. The estimated street value of the haul is about $12 million.
The last (and only other) Class A drug shipment pulled from an underwater hiding place in the UK was in November 2021.
"This was an extremely rare and sophisticated concealment, and shows how far criminal networks will go to get dangerous drugs like cocaine into circulation," said NCA Operations Manager David Phillips in a statement.