UK Believes That Russia is Mining Approaches to Ukraine's Black Sea Ports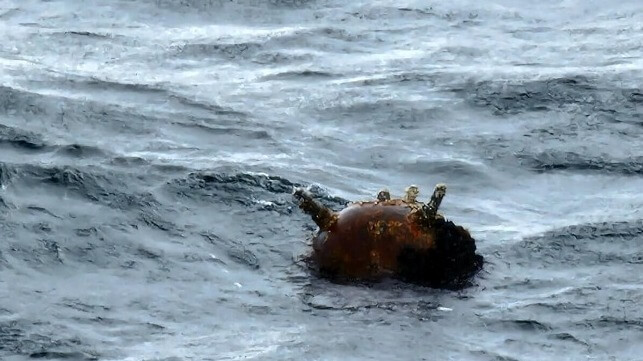 Russia has begun to lay additional naval mines on the approaches to Ukrainian seaports, according to the government of the UK. The Russian military has been conducting drone and missile strikes against Ukrainian grain export infrastructure since last week, and it has threatened to treat any merchant ships approaching Ukraine as possible weapons carriers.
"Our information indicates that the Russian military may expand their targeting of Ukrainian grain facilities further, to include attacks against civilian shipping in the Black Sea," UK Ambassador to the UN Barbara Woodward told reporters on Tuesday. She clarified that the UK has information that Russia has installed more sea mines on the approaches to Ukraine's Black Sea ports.
"We agree with the US assessment that this is a coordinated effort to justify and lay blame on Ukraine for any attacks against civilian ships in the Black Sea," she added.
Last Monday, Russia reactivated its de facto blockade of grain shipments from Ukraine's Black Sea ports, quitting a UN-brokered agreement that required Russian forces to not attack preauthorized grain shipments. To emphasize its change in policy, Russia has struck and damaged grain terminals near Odesa and Reni, destroying up to 60,000 tonnes of Ukrainian grain intended for customers in China. The strikes have had immediate effects on the crucial London insurance market for shipping, and brokers have reported internal discussions about the future cost and availability of war risk cover for any Ukrainian seaport.
The UN has repeatedly asked Russia to come back to the grain deal and permit Ukrainian wheat to flow to the global market. Wheat prices have risen about 15 percent since Russia withdrew, and may yet rise higher as attacks on Ukrainian ports continue. The price hikes add to the cost of living for all consumers, including vulnerable populations in the global south. However, Russia has rejected these entreaties - including a new appeal from UN Secretary General Antonio Guterres - citng its own concerns about its access to international markets.
"Mr Guterres' letter again set out a kind of action plan with promises that at some point it would be possible to meet the Russian side's request. Unfortunately, at the moment, it is impossible to return to the agreement, because it is not implemented and de facto has never been implemented," Kremlin spokesman Dmitry Peskov told reporters.
Since the grain corridor is shut, the EU is searching for overland alternatives for Ukrainian grain exports. It should be possible to move about four million tonnes per month, according to EU agriculture commissioner Janusz Wojciechowski. In the meantime, Ukraine's western allies are looking at options to supply temporary storage systems to preserve the grain while awaiting a resolution on transport.
Ukraine has also pledged to strike Russia-bound shipping in retaliation. On Tuesday, the RUssian Defense Ministry claimed that one of its patrol boats had thwarted an attempted maritime drone attack in the southwestern Black Sea, about 200 nm to the southwest of Sevastopol. According to the ministry, the patrol ship Sergei Kotov destroyed two approaching naval drones at a distance of about 1,000 yards.
Ukraine has previously used seaborne drones to attack warships of the Russian Black Sea Fleet, as well as the road bridge over the Kerch Strait, according to the Russian government and independent analysts.