UAE-Backed Forces Prepare Assault on Hodeidah's Port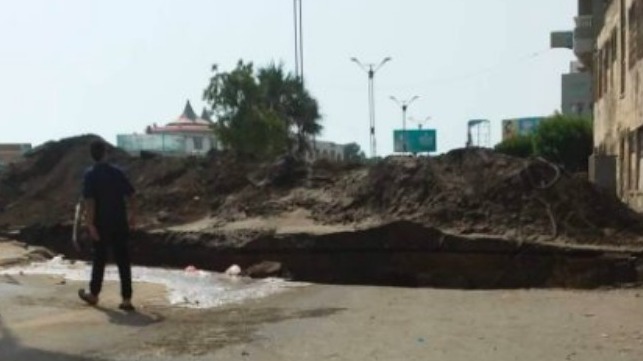 On Thursday, reinforcements arrived for UAE-backed Yemeni forces as they prepare an assault to retake the seaport at Hodeidah, Yemen. Houthi rebels have been in control of Hodeidah and its port since 2014, and the coalition alleges that it is a conduit for arms shipments from Iran. The port also handles about 70 percent of Yemen's imports, including most of its food supply, and aid groups have warned that fighting could interrupt the flow of relief to millions of Yemeni citizens.
"We are deeply worried about the situation," said Lise Grande, Humanitarian Coordinator for Yemen. "Even before the fighting began, conditions in Hodeidah were some of the worst in the country . . . We have been off-loading food at the port and we are rushing in as many emergency stocks as possible while we can."
Grande said that a cholera outbreak is at the top of relief groups' concerns right now. "If the water system in just one neighbourhood breaks down, and if nothing can be done to immediately address the situation, cholera could spread with lightning speed," she warned.
In parallel Twitter posts, the UAE's embassies reported that the seaports of Hodeidah and Saleef remain fully operational.
The UAE, which backs the government of Yemen, said Thursday that it would only accept a full and unconditional withdrawal of Houthi forces from the city and its port. UAE foreign minister Anwar Gargash alleged that Houthis are "blocking the offloading of aid" at the port, laying land mines and destroying civil infrastructure in advance of the assault. Photos on social media appeared to show Houthi forces digging trenches in preparation for combat.
On Tuesday, the UAE-backed coalition captured the airport south of the city, a preliminary step in the coalition's plans to retake the port. The three-day fight for the airport resulted in at least 40 casualties on the Houthi side. The remaining Houthi garrison in Hodeidah is believed to be small, in the range of 2,500 fighters, but a prolonged house-to-house fight for the control of the city could take months, analysts warn - with potential consequences for the civilian population and the operations of the port.