U.S. Port-Related Projects Awarded $72.7 Million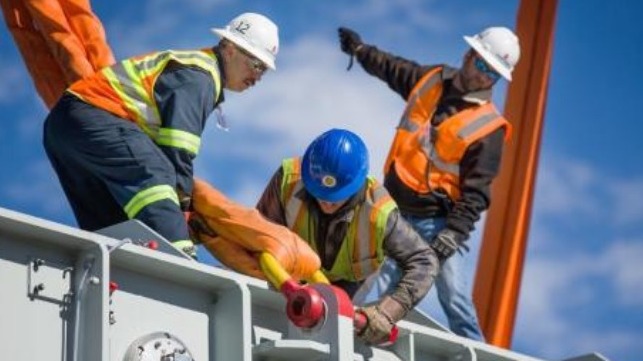 The U.S. Department of Transportation has announced its list of recipients for $500 million in discretionary grant funding for road, transit, maritime and rail projects in Round 9 of the Transportation Investment Generating Economic Recovery (TIGER) program.
Of the 41 projects awarded grants in this round, five are port-related, although only two (out of 40 port applications submitted) went to marine port authorities. Port-related projects received a total of $72.7 million, or about 14.5 percent of the nearly $500 million available.
The American Association of Port Authorities (AAPA) has consistently called for port-related projects to receive at least 25 percent of the grant total. In TIGER's first round (fiscal 2009), port-related infrastructure projects received about 8.6 percent of the original $1.5 billion allocated. Through subsequent rounds, port-related infrastructure did better, garnering 14.6 percent (of the total $600 million) in the second, 12.8 percent (of the total $527 million) in the third, 13.6 percent (of the total $500 million) in the fourth,13.3 percent (of the total $474 million) in the fifth, 12.4 percent (of the total $600 million) in the sixth, 9 percent (of the total $500 million) in the seventh, and 12.36 percent (of the total $500 million) in the eighth.
Kurt Nagle, AAPA's president and CEO, said: "TIGER grants are one of the few federal funding programs available to public port authorities to help them pay for critical infrastructure to move and handle freight more efficiently. While we're pleased there were a few port-related projects included in the ninth round of TIGER grants just announced, we're disappointed there weren't more."
Seaport cargo activity throughout the nation accounts for 26 percent of U.S. GDP, over 23 million American jobs, and generates over $320 billion annually in federal, state and local tax revenues. The AAPA has worked with its member ports to identify $66 billion in federal port-related infrastructure investments over the next 10 years, on both the waterside and the landside. These federal investments are necessary to supplement the approximately $155 billion in capital improvements that U.S. port authorities and their private-sector partners are planning between 2016 and 2020.
The following five port-related projects were approved for discretionary grants:
• Baltimore County, Maryland, will receive $20 million for the Mid-Atlantic Multi-Modal Transportation Hub to build state-of-the-art cargo-handling facilities at the Sparrows Point industrial facility in East Baltimore as part of a larger investment program to repurpose a former steel manufacturing site with marine service into a multi-modal logistics hub.
• The City of Burlington, Iowa, will receive $17 million for its Downtown/Riverfront Revitalization Project to convert parts of Main and Jefferson streets into complete streets, constructing a linear multi-use path park, a new waterfront community gathering area and new parking lots, and installing new boat ramps and docking facilities for use by river cruise lines and recreational boaters.
• Louisiana's St. Bernard Port, Harbor and Terminal District will receive $13 million to rehabilitate to modern design standards the last two original wharf sections, A and F, which have been maintained but have exceeded their useful lives over the past 110 years.
• The Alabama State Port Authority will receive $12.7 million for its Southeast Automotive Gateway. The project is to convert an abandoned bulk handling facility at the Port of Mobile into a roll-on/roll-off mobile vehicle processing facility.
• The Indiana Department of Transportation will receive $10 million for the Wabash River Rail Bridge Infrastructure Revitalization Project to replace two deteriorating freight rail approaches to the Wabash River Bridge. The bridge serves as a rail link from energy and agricultural suppliers of Illinois to river ports in Mt. Vernon, Indiana, part of the Ports of Indiana.