U.S. Navy Transport Arrives to Evacuate American Citizens From Sudan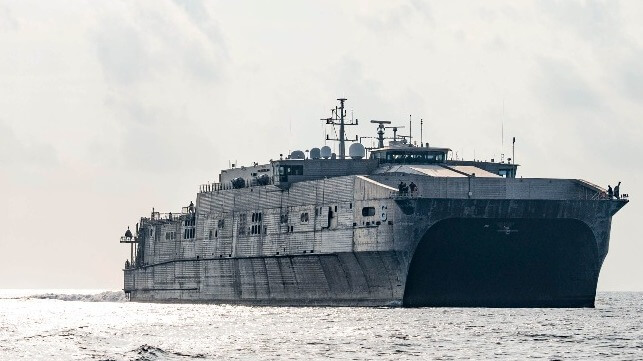 The U.S. Navy fast transport USNS Brunswick has arrived in Port Sudan to assist in the evacuation of American citizens, according to the Pentagon.
The evacuation has been weeks in development. In mid-April, fighting broke out between the governing Sudan Armed Forces (SAF) and an allied paramilitary group, the Rapid Support Forces (RSF). Their alliance has disintegrated in recent months over the details of a power-sharing agreement, and tensions escalated into combat. At least 500 people have been killed to date, and thousands have fled the country.
Port Sudan is reportedly operating normally, with all services and businesses open. As a transport hub and a place of relative safety, it has become a mustering point for evacuees. A commercial ferry, the Amanah, is operating regular services to carry foreigners across the Red Sea to Jeddah, Saudi Arabia, and the government of India has deployed warships to carry Indian nationals on the same route. China's PLA Navy and the Royal Saudi Navy have also used the seaport to evacuate their own citizens and other foreign nationals.
"My dear friends from????????#Pakistan, Chinese govt. warmly welcome you all and will bring you to Jeddah port (????????#SaudiArabia)."????????????

????????Chinese #PLA navy helps Pakistani brothers and sisters to evacuate from #Sudan. pic.twitter.com/7pK1FhNWYi

— Shen Shiwei ??? (@shen_shiwei) April 30, 2023
First batch of stranded Indians leave Sudan under #OperationKaveri.

INS Sumedha with 278 people onboard departs Port Sudan for Jeddah. pic.twitter.com/4hPrPPsi1I

— Arindam Bagchi (@MEAIndia) April 25, 2023
The U.S. government initially declined to provide evacuation assistance for American nationals in Sudan, except for the 70 staffmembers of the U.S. embassy in Khartoum. However, as the situation on the ground continued to deteriorate and calls for assistance grew, American officials made preparations for an overland convoy to leave the city. Several hundred Americans boarded buses and drove 500 miles from Khartoum to Port Sudan, with armed drones providing overwatch, according to NBC. USNS Brunswick and her civilian mariner crew called at the port to provide onward transport.
AIS data suggests that USNS Brunswick left Diego Garcia on April 19 - long before the decision to evacuate was announced - and she got under way for Djibouti, arriving April 25. She departed again that night and headed north towards Sudan, then disappeared from AIS, according to data from Pole Star.
The Royal Navy frigate HMS Lancaster is also alongside at Port Sudan in case she is needed, and the naval auxiliary RFA Cardigan Bay is believed to have sped up a maintenance period to completion in order to get under way to assist.