U.S. Navy Tests Remote-Control System for F/A-18 Fighter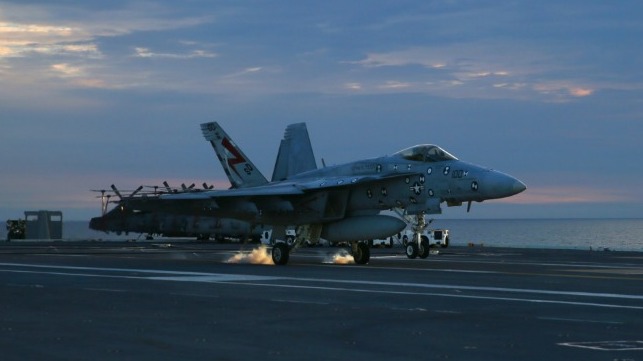 The U.S. Navy is field-testing a system that allows carrier crews to remotely control F/A-18 fighters. The new system - named ATARI, in a nod to the 1980s-era computer game console - gives an aircraft carrier's landing signal officers (LSOs) the means to take over the aircraft upon approach and pilot it to a safe recovery.
The Navy announced Thursday that the crew of the carrier USS Abraham Lincoln has demonstrated ATARI's performance during a touch-and-go flight test. On the day of the test, the sea state was rough and there was a lot of motion on the flight deck, said Buddy Denham, a senior engineer at NAVAIR and the creator of ATARI. Still, he said, the system performed well.
"I was really impressed with LSO's ability get me to touch down," said Lt. John Marino, the first test pilot to touch down on a carrier while his plane was under ATARI control. "The conditions were really [poor], and it was really impressive the system worked the way it did. On a calm day, it would have been a little bit boring, but this was definitely more challenging."
ATARI has been in testing on manned aircraft platforms since 2016, when researchers at Naval Air Station Patuxent River fitted it to a Learjet. It has since been flown with F/A-18s on shore, and after extensive testing, the Navy's VX-23 test squadron felt ready to take it to sea.
ATARI allows the carrier LSOs to take over the fighter at a distance of up to five miles away. In the future, it could be used for recovering carrier-launched drone aircraft - like the MQ-25 aerial refueling tanker, which is now in development - or as a backup control method for human-piloted fighters.
"We took the guy who's flying the aircraft and we moved him to the LSO platform," said Denham. "You're effectively using little joystick controllers to guide a 40,000 lbs. airplane, and it's almost like you're playing a video game."
For the two-day test, engineers simply secured a van with computer equipment on the Lincoln's flight deck rather than bolt down their hardware on board. ATARI is not slated for deployment yet, so a permanent installation will have to wait, but the Navy says that it shows promise for future applications.
The system - or one like it - could well play a role as the service moves towards unmanned carrier-launched aircraft. Northrup Grumman's X-47b demonstrated the potential for unmanned fighter landings in 2013, and the Navy is in the process of selecting a vendor for a new generation of unmanned small tanker, to be called the MQ-25.
X-47b comes in for the first-ever unmanned fighter landing on a carrier, 2013 (USN)