U.S. Navy Stages Global Exercise With Six Carriers and 25,000 Personnel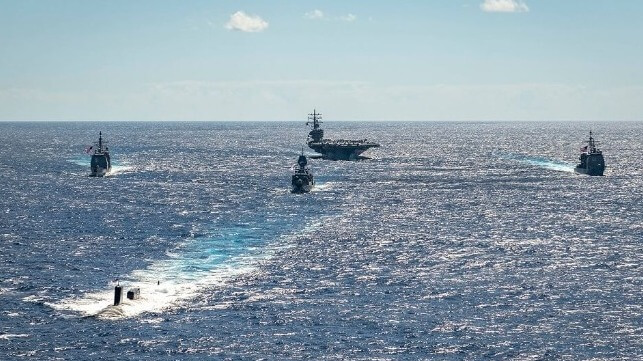 The U.S. Navy has long believed in honing its edge through large-scale exercises, like the Fleet Problem mock naval battles staged in the 1920s. These simulated confrontations were designed to be realistic, and they helped develop the warfighting techniques that would win WWII. Today's Navy continues that tradition, but this year it is upping the ante with a truly "Large Scale Exercise," incorporating six carrier strike groups and 25,000 sailors and marines distributed around the world. The objective is to prepare for global-scale, high-end naval warfare.
"The ability to command and control our operations across 22 time zones is how we will fight and win in a global environment against our competitors," said Adm. Daryl Caudle, commander of U.S. Fleet Forces Command. "To do so, we have to globally synchronize precision and timing in order to conduct high-end modern warfare."
Objectives for this year's LSE - the second ever held - include validating the Navy's distributed maritime operations (DMO) doctrine, which seeks to disperse assets over distance in order to complicate the enemy's targeting efforts.
The exercise will also focus on highly coordinated command and control for simultaneous effects, as well as testing the secret but much-discussed Project Overmatch networking and comms system. Capabilities from Project Overmatch are already being tested by the Carl Vinson Carrier Strike Group, and will roll out to 7th Fleet after they have been validated.
To carry out simultaneous training on a global scale, the Navy is using new virtual tools. With its "live-virtual-constructive environment," units can participate virtually, regardless of location, and can be "relocated" to the spot needed for the battle problem. Live units will be conducting physical operations, while ships moored alongside or sailors at shore facilities can participate through a virtual interface. 1,000 personnel have been assigned to coordinate the simulation.
"Conducting these operations in a live, virtual, and constructive manner is key," said Lt. Gen. Brian Cavanaugh, commander of Marine Forces Command. "From the tactical end where we have the sailors and Marines doing operations on the ground or at sea, all the way up to the command and control aspect, our ability to synchronize and conduct those operations are critical."