U.S. Navy Ships in San Diego Head to Sea Ahead of Hurricane Hilary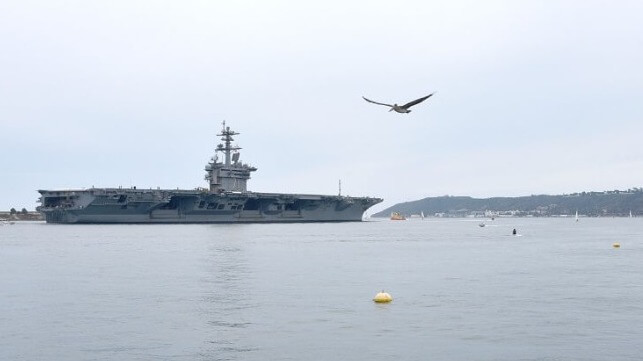 On Saturday, the U.S. Navy's substantial fleet of warships at San Diego headed out to sea en masse to avoid any risk of damage from Hurricane Hilary.
"In order to ensure the safety of our sailors and ships, we are taking all necessary measures to mitigate potential damage to infrastructure and Third Fleet vessels caused by the storm," said Vice Adm. Michael Boyle, commander, U.S. Third Fleet. "Safety remains our top priority, and putting all capable ships to sea makes it easier for us to manage the situation ashore."
The order to sortie affects vessels at Naval Base San Diego, Naval Base Coronado and Naval Base Point Loma. 3rd Fleet said that all ships that can sail will remain at sea from Saturday until the storm subsides. Those that remain alongside at base will take normal heavy-weather precautions, like doubling-up lines.
Aircraft at the famous Naval Air Station North Island are secured in weather-rated hangars. On shore, base personnel removed small craft from harm's way, sandbagged where needed and made sure that storm drains are clear.
Commercial vessels had more flexibility. The Captain of the Port for San Diego has allowed traffic to proceed as usual, but asked ships that are not making way - either drifting or at anchor - to keep engines on standby or proceed under power until the storm has passed. The Port of San Diego has closed some waterfront parks to the public for safety, and its administration building will be closed Monday.
Hilary made landfall in Baja California as a tropical storm on Sunday afternoon, bringing heavy rain and mudslides to a perennially-dry region. It crossed the border near San Diego in the early evening, dumping massive quantities of water and raising the possibility of flash flooding. No fatalities have been reported on the U.S. side of the border.