U.S. Navy Seeks to Reduce its Missile Defense Mission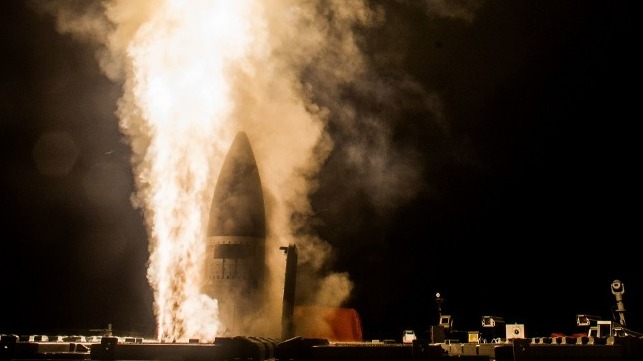 At a U.S. Naval War College forum last week, the Navy's highest officer said that he wants to hand the mission of long-term ballistic missile defense coverage over to shore-based units.
At present, the U.S. Navy's 7th Fleet provides allies in East Asia with protection against the potential of a North Korean ballistic missile attack. Its high-end Aegis cruisers and destroyers stand guard at sea, prepared and ready to destroy incoming missiles mid-flight. However, this patrol mission contributes to the burden on the forward-deployed fleet in Japan, which has been stretched thin by budget cuts and a high op-tempo in recent years.
At the War College's Current Strategy forum on June 12, CNO Richardson said that the Navy could "get out of the long-term missile defense business" and put those ships to better uses if it could pass the task to shoreside units.
"Right now as we speak I have six very sophisticated, multi-mission, dynamic cruisers and destroyers on ballistic missile defense duty at sea," he said. "And if you know a little bit about this [ballistic missile defense] business, you know that the geometry is a tyrant . . . you have to be in a tiny little box to have a chance at intercepting that incoming missile. So we have six ships that could go anywhere in the world at flank speed, in this tiny little box, defending land."
The USS John Paul Jones test-fires an SM-3 Block IIA anti-ballistic missile interceptor, February 3, 2017 (USN)
While these ships are well-equipped to transit to regions with emerging threats in order to set up a temporary missile-defense shield, they are an inefficient way to perform the task long-term, Richardson said. "Ten years down the road, it's time to build something on land to defend the land," he said. "We're working very closely with our allies and partners to move that ballistic missile defense ashore and liberate these ships from doing that from sea."
Separately, some analysts warn that depending on the surface fleet for missile defense can create a strategic liability: a shortage of suitable and available vessels could impair the BMD mission. When the Aegis destroyers USS Fitzgerald and the USS John S. McCain collided with merchant ships last year, 7th Fleet's Destroyer Squadron 15 shrank from eight available ships to six. In a report, the Congressional Research Service noted that the McCain and Fitzgerald casualties reinforced concerns about the available numbers of BMD-capable Aegis warships in the Western Pacific.