U.S. Navy Salvage Divers Help Search for Maui Fire Victims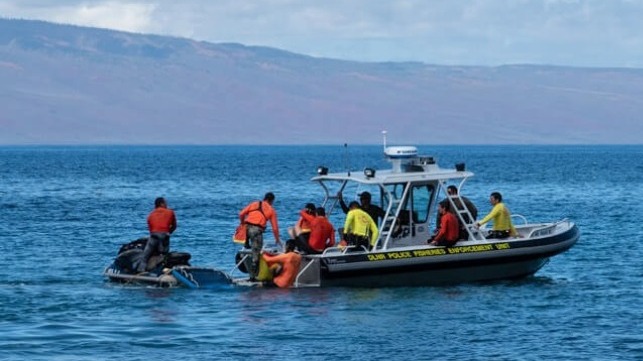 U.S. Pacific Fleet has dispatched a team of salvage divers to help local first responders search Lahaina's harbor, an incident response official told Navy Times.
The devastating fire that swept through Lahaina on August 8 claimed at least 115 lives, and another 388 people remain missing. The Maui Fire Department is working with other agencies to search about four miles of waterfront in the city harbor. Dozens of people are known to have sought refuge along the shore or in the water, including 17 who were rescued by a U.S. Coast Guard patrol boat. Officials expect to find human remains in the same area.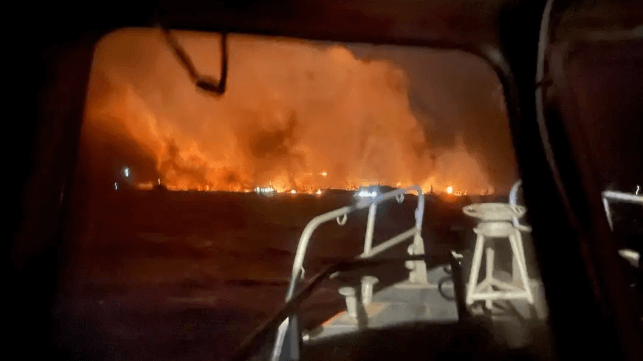 The Lahaina fire as seen by the crew of a Coast Guard response boat, August 8 (U.S. Coast Guard)
Meanwhile, the U.S. Coast Guard and other agencies are working with Maui County to mitigate another problem on the waterfront. The fire incinerated most of Lahaina, leaving behind toxic ash and residue. Burned plastic, heavy metals and all the other chemical ingredients of modern life - from pesticides to auto coolant - are sitting on the ground, exposed to the elements and waiting to wash into the bay with the first rain.
Lahaina's storm drain system is not commingled with sewerage, and it does not go to a treatment plant. Instead, it is piped straight into the sea. Any toxic runoff could have serious consequences for the area's reefs and fisheries, which are important for tourists and residents.
The response plan calls for emplacing filter barriers around each roadway storm drain to reduce the quantity of pollutants that enter the waterway. The Coast Guard has also deployed booms at key points along the waterfront to try to contain oil released from burned-out cars, Lt. Trenton Brown (USCG) told NPR. In addition, the environmental response team plans to spray down the worst of the dust with a biodegradable binder compound to try to contain it in place.
The contaminants may already have affected the water supply. A no-drink order is in place for the town of Lahaina's water system, as officials believe that some of these toxic contaminants likely percolated into the water already. Bottled water is being distributed for first responders, and free fill-up points with clean drinking water are available for residents to fill their own containers.