U.S. Navy Plans to Use Unmanned Boats to Counter Drug Smugglers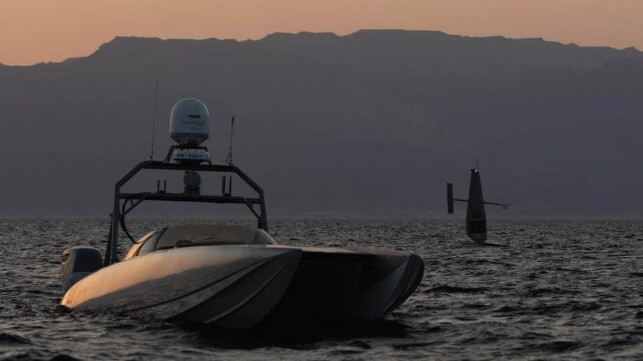 The U.S. Navy is expanding its unmanned surface vessel program to Central and South America, where it will be integrated into an operational command for the first time. The decision expands on the work of Task Force 59, the special unit set up in the Persian Gulf try out small unmanned surveillance boats like the MANTAS T-12 and the Saildrone in a maritime security role.
The unmanned assets will be integrated into existing units in U.S. 4th Fleet's command structure, rather than siloed within a separate task force, Chief of Naval Operations Mike Gilday told Defense News. At the Sea Air Space conference on Tuesday, Secretary of the Navy Carlos Del Toro said that 4th Fleet will "provide us with an environment best suited to operationalize the concepts of Task Force 59 [which has] worked tirelessly to develop to increase our maritime domain awareness." U.S. 4th Fleet's maritime mission is heavily focused on counternarcotics in the Caribbean and Eastern Pacific.
The decision to expand the initiative within 4th Fleet rather than 5th Fleet - where it is currently housed - went unexplored in the announcement. 5th Fleet's Task Force 59 encountered a sophisticated adversary, the Iranian military, which tried to steal U.S. unmanned vessels on several occasions. The attempted seizures (successful in at least one case) confirmed one of the operational concerns about unmanned surface vessels: without hardening, these assets can be boarded or captured by an enemy with limited repercussions when compared with a manned ship. In 4th Fleet, however, the sole opponents will be smugglers, who lack state-level resources to find and interfere with American surface drones.
"The goal here is to have far better [surveillance] across the entire area of operations so that we can actually deter the flow of drugs into the United States," Del Toro told Breaking Defense.
The Navy plans to release more information about the initiative in the run-up to the multinational UNITAS 2023 exercise, which will be hosted by the Colombian military in July.