U.S. Navy Favors Lowest-Cost Fix for Red Hill Fuel Tanks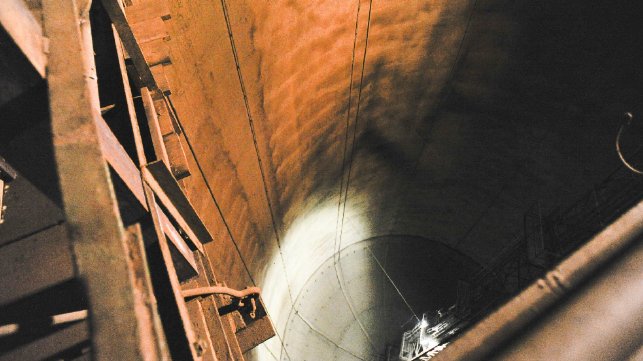 After an extended review process, the U.S. Navy has decided to promote the use of the least-cost option for upgrading the underground tanks at the Red Hill Bulk Fuel Storage Facility near Pearl Harbor. The aging tank farm released 27,000 gallons of jet fuel in 2014, raising concerns about groundwater contamination.
Red Hill was built during World War II to provide fuel reserves for Hawaii-based forces. It has 20 giant steel-lined concrete tanks buried deep within Red Hill, each containing up to 12 million gallons of fuel. These tanks connect to gravity-fed pipelines that run underground to piers at Pearl Harbor. The gravity discharge lines from the tank farm to the waterfront provide the Navy with a reliable, high-speed method of bunkering its warships.
After the 2014 fuel release, the Navy reached an agreement with the EPA and the state of Hawaii to make improvements to the facility. It considered six remediation options, and in August, it proposed pursuing "the most affordable option that achieves the safety and protection" of Oahu's drinking water aquifers - the option with "minimal changes to the status quo." This plan includes applying corrosion-resistant coatings to the tanks and investing in a leak detection system.
Now that the service has decided on its preferred plan of action, it will need the approval of the Hawaii Department of Health and the EPA to proceed. The agencies rejected a Navy work plan in 2016, finding that it lacked rigor and did not give sufficient detail.
"The bottom line is that the same drinking water my family and I drink continues to be safe and in compliance with all federal and state standards." said Rear Adm. Brian Fort, Commander, Navy Region Hawaii. "We remain committed to protecting our environment and drinking water while at the same time maintaining Red Hill as part of critical infrastructure, both in the event of conflict and in vital support to all of our islands and humanitarian missions."
The Navy says that the option that the Honolulu water board and environmental advocates would prefer - a second, tank-within-a-tank installation to provide double-walled protection - would cost somewhere between $500 million and $5 billion, depending upon the option selected. Fully replacing the tank farm with an equivalent installation would cost up to $10 billion. By comparison, the coating-and-monitoring option would cost about $25 million per tank, or $500 million in total.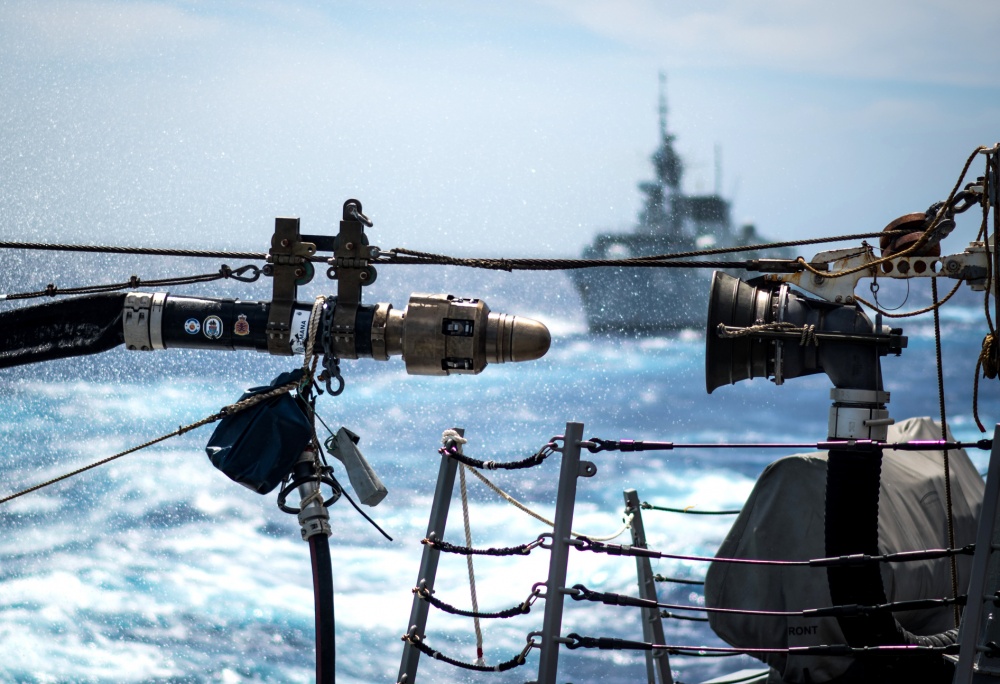 USS Dewey accepts refueling line from Canadian fleet auxiliary Asterix during RIMPAC 2018 (USN)
Simply shutting Red Hill down - as some environmental advocates have proposed - is not an option, the Navy says. The facility provides a strategic reserve for Pacific Fleet; during the RIMPAC 2018 exercises, the world's largest naval maneuvers, it provided more than 19 million gallons of bunkers and jet fuel to ships and aircraft, primarily through underway replenishment (above).
"Red Hill enables fleet readiness and is a key component of operations in the Pacific," said Lt. Cmdr. Blake Whittle, fuel department director, after the end of the exercises. "We are capable of fueling three fleet replenishment oilers simultaneously via pier connection to conduct quick turnarounds to get the vessels back underway to conduct replenishments-at-sea (RASs)."