U.S. Navy Keeps Carrier Out at Sea to Minimize Coronavirus Risk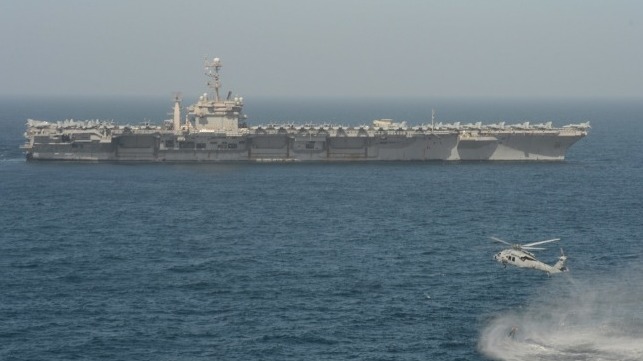 In order to minimize the risk of a coronavirus outbreak on board, the carrier USS Harry S. Truman and her escorts will remain at sea in the Western Atlantic rather than return to port at Norfolk.
Truman deployed to the 5th Fleet and 6th Fleet areas of responsibility in November, and her last liberty was in Duqm, Oman in late February. After that visit, her overseas port call schedule was suspended (along with the port call schedule for the USS Eisenhower) due to the risk of novel coronavirus.
Truman is slated to rotate off of active deployment into the sustainment phase of the carrier readiness cycle, and she was scheduled to return to base at Naval Station Norfolk. In a statement, 2nd Fleet said that keeping Truman at sea during the sustainment phase will allow her to maintain readiness while reducing the risk for the crew.
"The ship is entering a period in which it needs to be ready to respond and deploy at any time," said Vice Adm. Andrew Lewis, commander of U.S. 2nd Fleet. "Normally we can do that pierside, but in the face of COVID-19, we need to protect our most valuable asset, our people, by keeping the ship out to sea."
2nd Fleet said that it will continue to evaluate the situation and will provide an update to the USS Truman's crew and their families in about three weeks.
The decision comes shortly after the Navy opted to evacuate the crew of the USS Theodore Roosevelt at its naval base in Guam. Nearly 600 sailors aboard Roosevelt have tested positive for the disease, and the majority of her 4,800-member crew have been removed from the ship in order to enter shoreside quarantine and give time for the carrier to be disinfected.
Additional coronavirus cases have been reported aboard three other non-deployed American carriers: USS Ronald Reagan (currently at Yokosuka), USS Nimitz (at Bremerton) and USS Carl Vinson (at Bremerton). Nimitz is currently preparing for a Pacific deployment.