U.S. Navy Decommissions Third Freedom-Class LCS, USS Milwaukee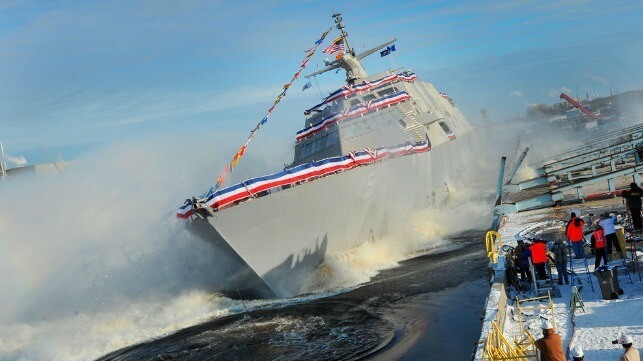 On Friday, the U.S. Navy decommissioned another Freedom-class littoral combat ship decades before its planned retirement. USS Milwaukee, the third in her class and the first to achieve full "serial production" status, will now enter long-term layup after just eight years in service.
Milwaukee was commissioned in November 2015 at the Marinette Marine yard in Wisconsin. The hope, according to designer Lockheed Martin, was that the Freedom-class production design would be "done, locked and stable" from Milwaukee onwards. Milwaukee incorporated hundreds of needed changes that Lockheed and Marinette Marine had made after the first two vessels in the class.
The design remained stable, but expectations for performance were optimistic. Milwaukee suffered a complete loss of propulsion on her maiden voyage, 20 days after commissioning, when a software failure damaged the complex gearbox that connects her diesel and turbine engines to her waterjets. She had to be towed into port for repairs, and the casualty became emblematic for the reliability problems facing the Freedom-class LCS fleet.
The ship later served as a test platform for an anti-submarine warfare system, which was ultimately canceled because of repeated developmental challenges. In 2022-23, after seven years, the crew got their long-awaited shot at an extended deployment: they made two voyages to join the busy counternarcotics operation off Central and South America, and they got to participate in a successful drug bust.
"Throughout the life of the ship, the sailors that sailed Milwaukee led the way in training and operations that led to fleet improvements and culminated with operational success that supported national security objectives and demonstrated U.S. commitment to our allies." said Cmdr. Jason Knox, Milwaukee's final commanding officer. "Not only can her sailors be proud of their distinctive accomplishments, but the City of Milwaukee, Wisconsin can be proud of their ship, too."
According to a recent in-depth report by ProPublica, the surface warfare community considers the LCS program "a place where careers go to die." The ships require lots of work to keep in repair, reducing their availability and the much-needed sea-time opportunities for the crew to gain promotions.
"The ships broke down so frequently that officers spent key years in which they were supposed to gain experience at sea sitting around waiting for repairs to be completed," ProPublica reported, citing interviews with current and former LCS officers.
The cost of repairs and the limited utility of the Freedom-class platform - especially for an envisoned anti-submarine warfare role - has reduced the Navy's interest in keeping the ships in commission. The service has sought permission to retire the first 10 Freedom-class hulls, but Congress has limited the pace of these inactivations. Only three have been removed from service to date.