U.S. Judge Rules Against Trump's Alaska Oil and Gas Leasing Bid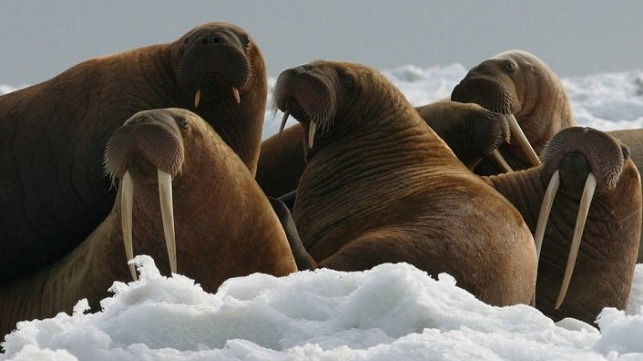 A judge in Alaska has overturned U.S. President Donald Trump's 2017 executive order to allow offshore oil and gas leases in the region.
The decision was issued on Friday by U.S. District Court Judge Sharon Gleason and, in support of earlier Barack Obama policy, prohibits leases in the Arctic's Chukchi Sea, part of the Arctic's Beaufort Sea and a large area of the Atlantic Ocean off the U.S. East Coast. In 2015, Obama stopped exploration in coastal areas of the Beaufort and Chukchi Seas and the Hanna Shoal. In 2016, he moved to protect about 98 percent of the Arctic outer continental shelf. Both actions were made with the aim of protecting polar bears, walruses, ice seals and Alaska Native villages that depend on them.
Trump's 2017 executive order sought to open more than 120 million acres of ocean to the oil and gas industry, including 98 percent of federal Arctic Ocean waters.
Gleason saying that Trump's attempt to undo Obama's protections was "unlawful" and a violation of the federal Outer Continental Shelf Lands Act. Presidents have the power under that law to withdraw areas from the national oil and gas leasing program, as Obama did, but only Congress has the power to add areas to the leasing program, she said. "The wording of President Obama's 2015 and 2016 withdrawals indicates that he intended them to extend indefinitely, and therefore be revocable only by an act of Congress."
The case involved a group of environmental organizations as plaintiffs against federal defendants including President Donald Trump with The American Petroleum Institute and the State of Alaska acting as intervenor-defendants. The American Petroleum Institute has issued a statement saying: "In addition to bringing supplies of affordable energy to consumers for decades to come, developing our abundant offshore resources can provide billions in government revenue, create thousands of jobs and will also strengthen our national security."
Several conservation and Alaska Native organizations filed the suit including Alaska Wilderness League, League of Conservation Voters, Natural Resources Defense Council, Sierra Club, Defenders of Wildlife, Northern Alaska Environmental Center, REDOIL (Resisting Environmental Destruction on Indigenous Lands), Center for Biological Diversity, Greenpeace and The Wilderness Society, represented by attorneys at Earthjustice and Natural Resources Defense Council.
Gleason also voided a land exchange deal between the Interior Department and the King Cove Corporation that attempted to trade away vital wetlands and wilderness to build a road through the Izembek National Wildlife Refuge on the grounds that Interior's decision-making was arbitrary and capricious.
Adam Kolton, Executive Director, Alaska Wilderness League, issues a statement saying: "In less than 24 hours, a federal court has put a halt to Trump's assault on wild Alaska. Yesterday's court decisions are victories for land and sea alike and a reminder that the Trump administration is not above the law."