U.S. Invests $550M in Terminal Next to Chinese Megaproject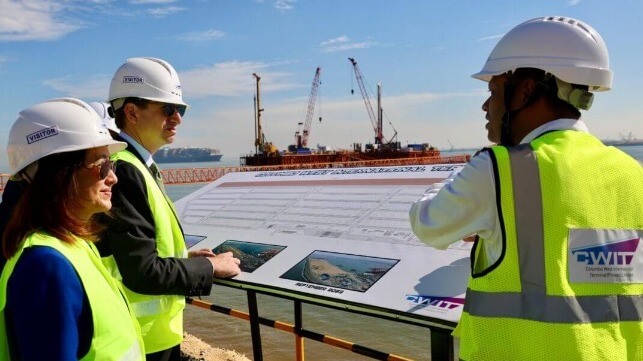 Sri Lanka has leaned on China to fund and develop its seaport infrastructure in the past, but for its next terminal venture, it will be turning to other partners: Indian industrial giant Adani and the government of the United States.
The U.S. International Development Finance Corporation will be putting $550 million into the construction of the Colombo West International Terminal (CWIT), a 3.5 million TEU facility on the port's western breakwater. The terminal project is backed by Adani Ports, Sri Lankan conglomerate John Keells Holdings (JKH) and the Sri Lanka Ports Authority.
The project is much needed, the partners say. Colombo is the busiest transshipment port in the Indian Ocean, and it handles an outsize share of international container traffic headed to and from India. Most of India's ports do not have the water depth to accommodate the ultra-large container vessels that ply the Indian Ocean, so the cargo gets transloaded onto smaller container ships in Colombo before it makes the last few hundred miles of its journey to Indian shores. Colombo has been operating at more than 90 percent utilization since 2021 and is in need of expansion.
Sri Lanka's economy could also use a boost from new investment and more construction activity. It has been in a recession since last year, when its economy contracted by eight percent amidst a foreign-exchange crisis.
"The $553 million investment by DFC for the long-term development of the Port of Colombo's West Container Terminal will facilitate private sector-led growth in Sri Lanka and attract crucial foreign exchange inflows during its economic recovery," said U.S. Ambassador to Sri Lanka Julie Chung. "Sri Lanka regaining its economic footing will further our shared vision for a free and prosperous Indo-Pacific."
CWIT's next-door neighbor is Chinese-owned Colombo International Container Terminals (CICT), and just to the south is a 600-acre Chinese megaproject: "Port City Colombo," a planned financial district to be built on reclaimed land. This $1.4 billion tax-free investment zone has an uncertain future, and for critics it is symbolic of the outsize role that Chinese lenders and developers have played in Sri Lanka's ports sector in recent years. The Port of Hambantota - an icon of China's Belt and Road Initiative - was also built with Chinese financing, then transferred to a Chinese operator on a 99-year lease in order to pay down debt.
Western defense analysts view many of China's overseas port projects as possible replenishment and support sites for the People's Liberation Army Navy (PLAN), the U.S. Navy's pacing threat in the Indo-Pacific. India, China's primary regional competitor, has also treated the role of the Chinese state in Sri Lanka's ports sector with suspicion.
Beyond geostrategic symbolism, the new American investment at Port of Colombo is also the first time that the U.S. government has invested in an Adani project. The Indian conglomerate said in a statement that the loan constitutes "a ringing endorsement of the Adani Group."
The company has had a difficult year: its stock shed about half of its value after a series of corporate governance allegations were aired by an American short-seller in January. Its share price rose about 1.5 percent on news of the U.S. government investment in its Colombo venture.