U.S. Gov't Charges Managers of Sanctioned Russian Yacht with Fraud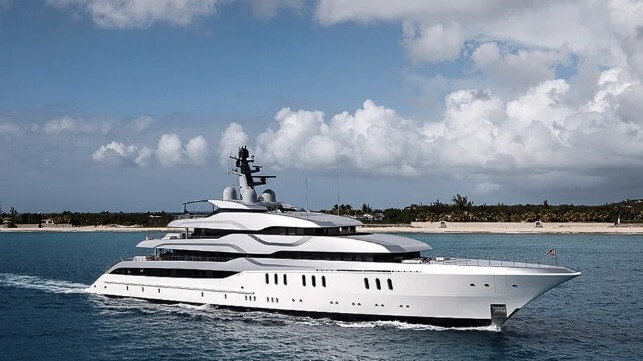 The U.S. government has charged two businessmen for allegedly working to hide a Russian oligarch's yacht from sanctions enforcement. Vladislav Osipov, 51, a Russian national, and Richard Masters, 52, a British citizen, stand accused of running a sanctions-evasion scheme on behalf of Russian oligarch Viktor Vekselberg, the owner of the $90 million superyacht Tango.
Vekselberg has been under U.S. sanctions since 2018, but after the launch of the Russian invasion of Ukraine in February 2022, authorities in the EU and the U.S. took steps to seize Tango and unravel the web of enablers who helped the oligarch maintain the vessel in secrecy. In April 2022, Spain's Guardia Civil obtained a freezing order from a court and seized the vessel at a yard in Palma de Mallorca, acting on an American request. The court has approved the forfeiture of the yacht based on violations of U.S. bank fraud, money laundering and sanctions statutes.
In an indictment announced Friday, the U.S. Justice Department said that Vekselberg had professional assistance in keeping the Tango running and hidden. According to DOJ, Richard Masters ran a yacht management company in Mallorca and took over Tango's operational management after Vekselberg was sanctioned in 2018. DOJ alleges that Masters created a false name for the Tango, the "Fanta," and made dollar-denominated transactions with U.S. financial institutions using this cover name to avoid suspicion. A co-conspirator instructed the Tango's UK-based insurer to always use the name "Fanta" instead of "Tango" in banking correspondence. The co-conspirators also used the name "Fanta" to order goods and services from U.S. companies for use aboard the vessel.
The U.S. government asked Spain to arrest Masters for extradition and trial, and the Guardia Civil carried out the warrant on Friday.
Osipov, an employee of Vekselberg, allegedly served as the property manager of the Tango. According to DOJ, he designed a web of shell companies to obscure the true ownership of the yacht. In reality, DOJ claims, the vessel was in every way Vekselberg's asset and his alone - down to its design.
Together, Osipov and Masters allegedly helped the yacht's employees to find workarounds to continue dealing with U.S. companies and avoid sanctions, using circuitous means and methods to transfer payments undetected. These illicit payments covered items like internet, weather forecasting, computing systems, satellite television, luxury goods, and teleconferencing software.
"Russian oligarchs are the product of an ecosystem of corruption that abuses rule-of-law-based monetary structures to enrich themselves with the luxury trappings and lifestyles that everyday people only dream of – all the while as thousands of Ukrainians are homeless due to Russia's unlawful invasion," said Special Agent in Charge Ivan J. Arvelo of the Homeland Security Investigations (HSI) New York Field Office. "As stewards of the American financial system, HSI will not stand idly by as U.S. dollars are used by oligarch criminal networks to operate and maintain these high value symbols of corruption."