U.S. Files Suit to Confiscate Russian Megayacht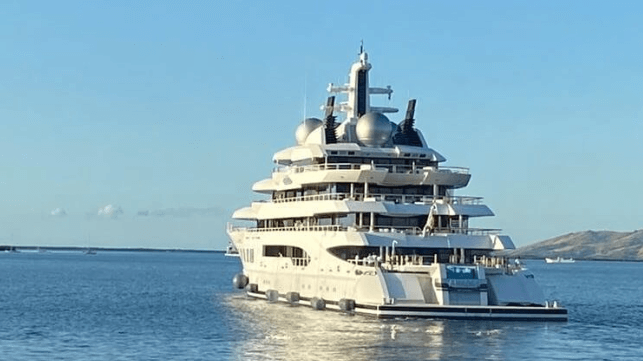 More than a year after seizing the Russian megayacht Amadea in a high-profile case in Fiji, the U.S. Department of Justice has filed suit to confiscate the vessel and sell it.
The suit asserts that the Russian billionaire Suleiman Kerimov bought the yacht for $225 million in 2021. At the time, Kerimov had already been sanctioned by the U.S. in connection with Russian military activity in Syria and Ukraine.
Using a nesting-doll arrangement of shell companies, Kerimov avoided the need to have his name on the paperwork or even notify the flag state that the vessel had been sold, according to federal prosecutors. But crew email communications sent immediately after the sale suggest that the vessel had a new owner, and that the owner's representative was Dinar Khalikov, an assistant employed by Kerimov. An email sent by the vessel's master suggests that Khalikov conveyed requests to redo the ship's interior decorating, something that a temporary guest would not do.
Kerimov was also named first on the guest manifest for the new owner's first voyage and was assigned the owner's cabin.
The suit also contends that Kerimov continued to pay for upkeep of the yacht using the U.S. financial system to transfer funds, itself a violation of the law.
The Justice Department will have to convince a jury that Kerimov is in fact the beneficial owner of the Amadea. A different person, yacht broker Evgeny Kochman - the president of Imperial Yachts - is the listed owner of the holding company that legally owns the yacht. (Kochman and Imperial have also been sanctioned by the U.S. government for their Russian ties.)
A third Russian national, former Rosneft CEO Eduard Khudainatov, has filed suit claiming to be the true beneficial owner of Amadea. However, the Justice Department asserts that Khudainatov does not have the funds to afford the upkeep for Amadea, let alone the other Russian megayachts he claims to own. Khudainatov is not on the U.S. Treasury's blacklist, and the FBI believes that he is merely a "clean, unsanctioned straw owner" for wealthier Russians who want to protect their yachts.
"The United States brings this action . . . after a careful and painstaking effort to develop the necessary evidence showing Suleiman Kerimov's clear interest in the Amadea and the repeated misuse of the U.S. financial system," said Task Force KleptoCapture co-director Michael Khoo. "It underscores our resolve to undertake challenging, cross-border investigations and to send a message to Russian oligarchs and their enablers."
The federal government has also blocked $1 billion in assets held by Heritage Trust, an American investment company in which Kerimov holds an interest.