U.S. Expands Sanctions on North Korean Shipping
On Friday, U.S. President Donald Trump announced "the largest-ever set of new sanctions on the North Korean regime." In what Trump described as the "heaviest sanctions ever," the U.S. Treasury has added 28 vessels, 27 companies and one individual to its blacklist for sanctions-busting activity. The list includes multiple shipping firms based outside of North Korea.
"Today's actions will significantly hinder North Korea's ability to conduct evasive maritime activities that facilitate illicit coal and fuel transports," said Treasury Secretary Steven Mnuchin. "The President has made it clear to companies worldwide that if they choose to help fund North Korea's nuclear ambitions, they will not do business with the United States."
In order to deter North Korea from pursuing its nuclear weapons program, the United Nations Security Council prohibits most North Korean exports and imports, with limited exceptions. It also maintains worldwide prohibitions against port entry for many North Korean vessels. In response to these restrictions, the North's ships have switched to high seas fuel transfers and foreign port transshipments to evade detection. U.S., South Korean and Japanese agencies have documented multiple instances of foreign vessels transferring fuel to North Korean tankers, and analysts say that the North's bulkers routinely offload coal at Russian Far East ports for transfer to destinations in Asia.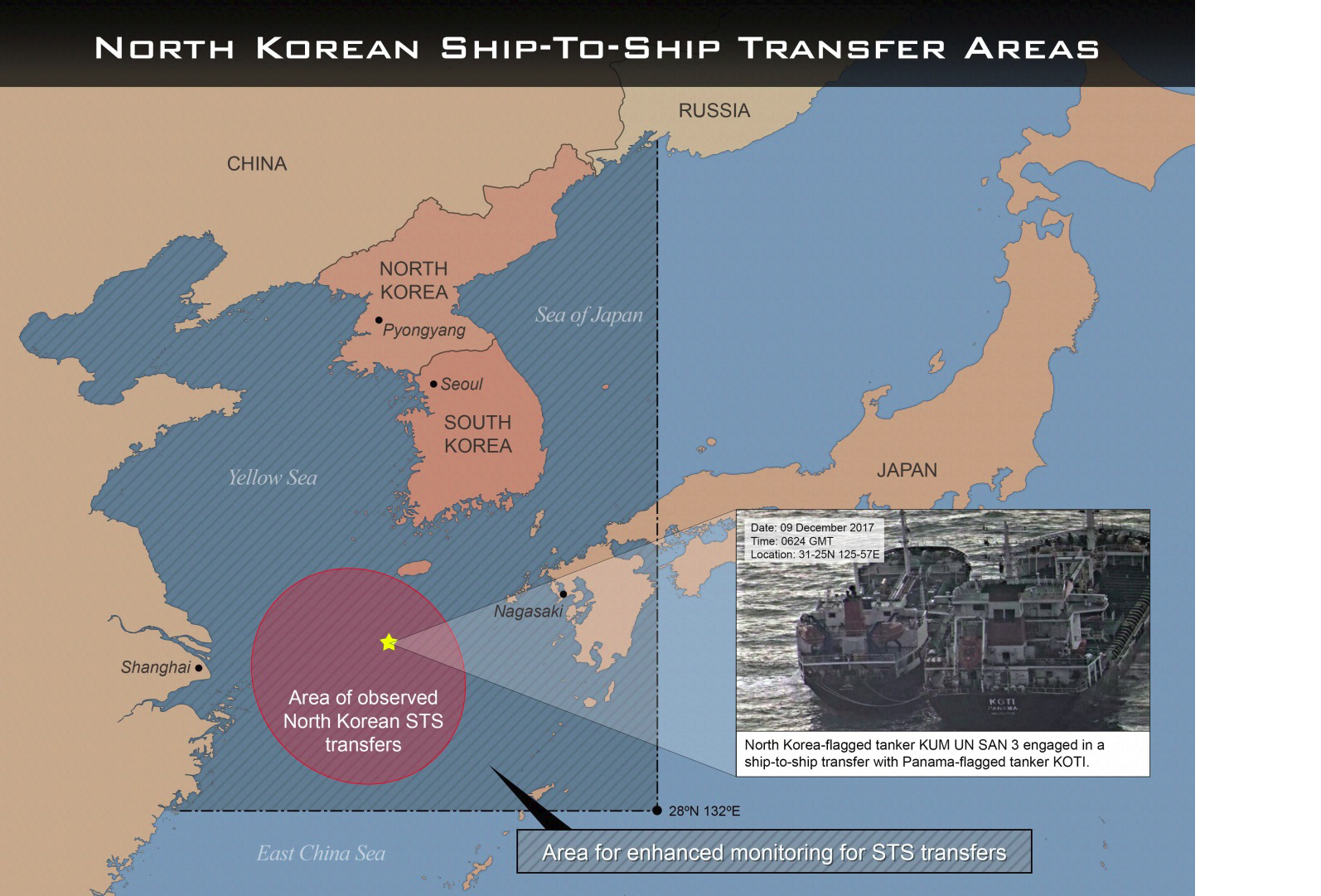 But the entities and assets affected by the latest American sanctions are not just from North Korea. Multiple foreign firms - most from Hong Kong and mainland China - are also listed, along with vessels homeported in open-flag maritime registries around the world.
The non-DPRK companies sanctioned include:
- Chang An Shipping, Hong Kong
- Hongxiang Marine Hong Kong
- Huaxin Shipping Hong Kong
- Liberty Shipping, Hong Kong
- Shanghai Dongfeng Shipping
- Shen Zhong International Shipping, Hong Kong
- Weihai World-Shipping Freight, Weihai, China
- Kingly Won International, Taiwan and the Marshall Islands
- Pro-Gain Group, Taiwan and Samoa
- Koti Corp., Panama
- Yuk Tung Energy, Singapore
The Treasury's Office of Foreign Asset Control warned that the civil penalty for violating sanctions on North Korea is either twice the value of the transaction or $290,000, whichever is greater. Additionally, UN penalties for violating shipping sanctions can include a worldwide port ban for the vessels involved.
Vessel sanctions
In addition to 19 North Korean-flagged ships, the newly sanctioned vessels include:
The Treasury said that these vessels have been used either to export coal from North Korea or to engage in ship-to-ship transfers of refined petroleum products.
[Update: St. Kitts notes that it removed the Hao Fan 6 from its registry shortly after the U.N. Security Council banned the vessel from all member state ports in October 2017. St. Kitts removed the Hao Fan 2 from its registry the following month. The flag state reports that these ships have since been reflagged in China.]
False vessel identification
According to the Treasury, the DPRK's shipping agencies have taken to falsifying vessel markings in order to evade detection. In one example, the sanctioned DPRK-flagged tanker Kum Un San 3 was spotted December 6 bearing the IMO number of a Chinese freighter and a name that does not correspond to any registered vessel. Three days later, the Kum Un San 3 was photographed about 200 nm off Shanghai in what appeared to be an illicit ship-to-ship transfer with the Panama-flagged tanker Koti.