U.S. Coast Guard is Short 3,500 Servicemembers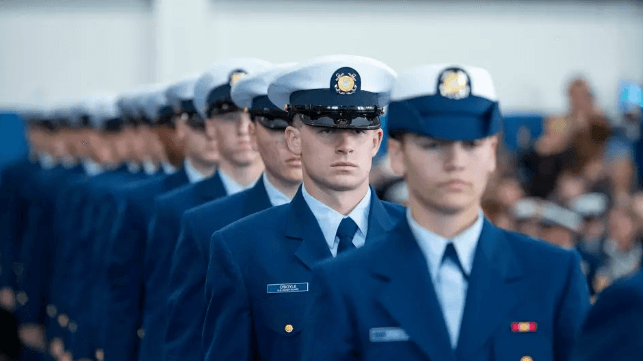 In a forum on great power competition at CSIS on Tuesday, U.S. Coast Guard Commandant Adm. Linda Fagan said that recruitment challenges have left her service short by several thousand junior enlisted personnel. The numbers going into the training center at Cape May are picking up, but for now, there will be short-handed units.
"Where we're managing right now, the shortfall is about 3,500 people, junior non-rates. And so as we go into our next assignment season, it by necessity is requiring us to identify billets . . . that we will not fill because we don't have a person to put into that billet," said Fagan.
This means that the service is having a series of conversations about how to juggle its many missions, "not with the workforce I want, but with the workforce I have," said Fagan.
As an example, the service might start running its 65-foot icebreaking tugs as dayboats, with a rotating pool of crewmembers - not as cutters with a permanently-assigned crew for each one. "That's an example of creating the effect you need . . . with the force that we have on hand," she said.
The workforce challenge has been a long time coming, she said. From the start of her tenure 16 months ago, Fagan called on her team to put "people and workforce" front and center on the agenda. The service has opened up options for coastguardsmen to keep the same rank, without "up or out" requirements; opened up more recruiting centers with more recruiters; created opportunities for lateral hiring for specialized skillsets; and worked to target its marketing more precisely.
COVID took a toll on recruitment, creating part of the deficit that the service is digging out of today. The good news, Fagan said, is that the recruiting numbers are starting to rebound in "significant and positive ways," even in a tight job market - and the people who are signing up are the people that the Coast Guard wants.
"This isn't a hurricane, it's taken us years to get here and it's going to take sustained effort to move us forward," Fagan said.
The workforce challenge comes at a time of high demand for the Coast Guard's services. As its role expands in U.S. 7th Fleet, the Coast Guard is being asked to do more than ever. Moderator Vice Adm. Peter Daly (USN, ret'd) asked Adm. Fagan whether it is realistic to expect the service to scale up its operations in the far-flung archipelagos of the Pacific.
"Until we get [more] budget support, we have a mission in the homeland . . . and there are other regions in the world where we are in demand as well," she said, referring to the service's traditional roles.