Typhoon Damrey Sinks Freighters at Port of Quy Nhon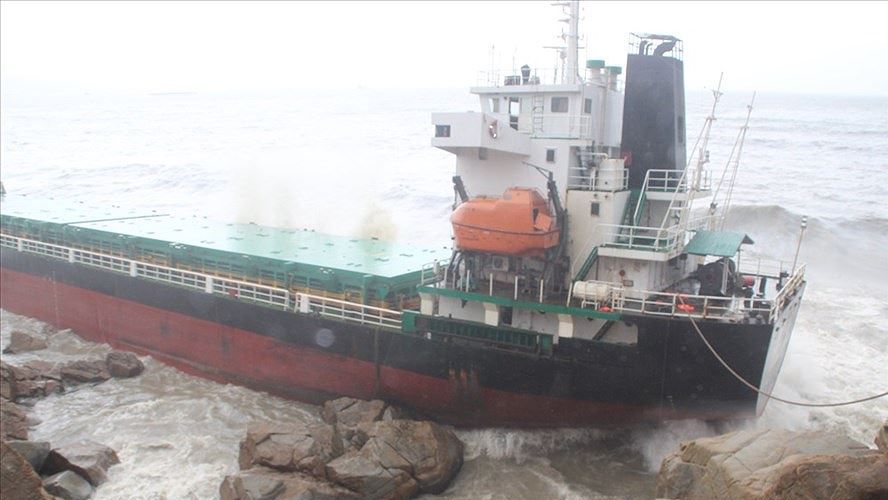 Typhoon Damrey grounded, damaged or sank nine freighters in the port of Quy Nhon over the weekend. As of November 5, four crewmembers were confirmed dead, 25 were missing and 74 had been rescued (from all vessels affected).
A top official with Vietnam's Maritime Bureau told Tuoitre that a large number of ships had anchored in Quy Nhon's harbor and near the sea buoy at the channel entrance (Buoy 0, as it is referred to locally). Port officials said that the harbor was overfilled.
"According to the decision of the Ministry of Transport, in Quy Nhon port . . . only up to 30 boats can be accommodated. At the time of typhoon, there were 104 ships, many large ships anchored. Many [entered] without permission," said the chairman of Binh Dinh province's People's Committee, Ho Quoc Dung. He explained that the crowding resulted from the vessels' attempts to escape the storm. Typhoon Damrey was expected to make landfall near Nha Trangh, 90 nm to the south. Many vessels headed to Quy Nhon in order to stay out of its path, but the storm's reach was wide enough to affect them there.
The casualties included:
- The Ha Trung 98, a cargo vessel based in Nam Dinh, which sank at anchor at Quy Nhon. All 10 of her crewmembers were rescued.
- The freighter Fei Yue 9, which went aground on a rocky shore at Ghenh Rang, just south of Quy Nhon. Her 15 crewmembers were rescued and taken for a medical evaluation. She has spilled an unknown quantity of fuel oil, said Quy Nhon border station officer Le Duy Hung, speaking to Bao Moi. Ghenh Rang is home to many fishermen and to aquaculture operators, and the pollution may affect the local economy.
- The freighter Nam Khanh 26, which sank at anchor near Quy Nhon's Buoy 0. Six of her 11 crewmembers were rescued and five remain missing, according to captain Nguyen Van Tai.
Separately, Reuters reports that six vessels were lost in the South China Sea during the typhoon. According to Vietnamese officials, 25 out of a total of 61 crewmembers from these ships have been rescued.