Two Crewmembers Medevaced off Port Elizabeth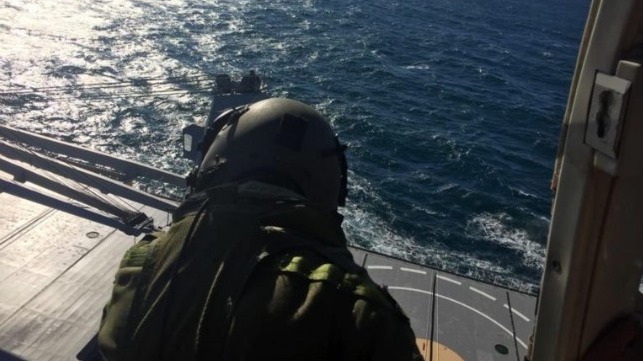 On Wednesday, personnel with the South African Air Force and the National Sea Rescue Institute medevaced two seafarers from the bulker KS Flora off Port Elizabeth, South Africa.
Both of the crewmembers had been injured on board during rough weather. One had suffered a broken leg, potentially including a fractured tibia and fibula, and one had suffered an injury to his left ankle. An EMS doctor with South Africa's Government Health assessed their condition by radiotelephone and recommended medical evacuation.
At 1200 hours on Wednesday, the NSRI Port Elizabeth duty crew received a request from the South African Air Force to respond to the incident. The Flora was headed for East London, and a Port Elizabeth-based NSRI rescue swimmer boarded an SAAF helicopter along with a government paramedic to meet the vessel at sea.
At about 1300 hours, the rescue team met the Flora at a position seven nm off East London. Conditions on scene were moderately rough, with swells of up to 13 feet and winds of up to 20 knots. The swimmer and the paramedic were lowered to the ship to ready the victims for transport. They stabilized and prepared the two seafarers in about 40 minutes, and the helicopter hoisted both aboard.
Once the patients and the responders were in the helicopter, the seafarers were taken to East London Airport and delivered to shoreside paramedics in stable condition. The rescue mission was completed by 1600 hours.
The medevac on Wednesday was the second that NRSI's Port Elizabeth station conducted this week. On Monday evening, NSRI dispatched a rescue boat to meet up with the bulker Vishva Preeti off Port Elizabeth to evacuate a female crewmember who was believed to have suffered a miscarriage. The crewmember and her husband were brought to Port Elizabeth and safely transferred to a hospital.