Two Crewmembers Killed in Tank-Cleaning Accident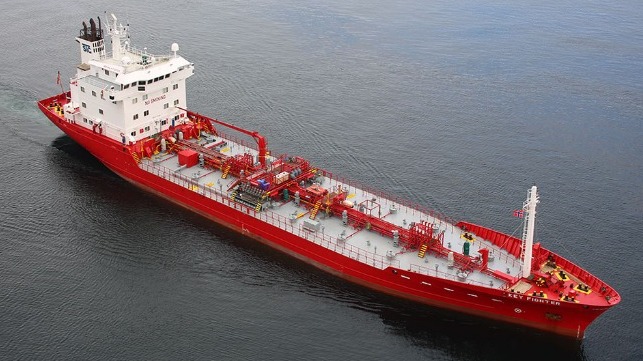 Two crewmembers of the chemical tanker Key Fighter died last weekend after they were poisoned during tank cleaning. Police are still investigating the circumstances of the incident, but the vessel's manager reports that they were exposed to hydrogen sulfide gas.
The 5,000 dwt Key Fighter trades between Norwegian ports carrying vegetable oils, according to NRK. She is managed by Fjord Shipping of Måløy, Norway and owned by Sea Tank Chartering of Bergen. At the time of the accident, the Fighter was under way from Norway to the UK on a ballast transit, and maintenance work was being performed on board.
In a statement, Fjord Shipping said that the crew of the Fighter reported that two persons doing tank cleaning were found unconscious in an empty cargo tank. Their shipmates lifted them out of the tank and performed first aid.

The report came at 0400 hours Saturday. A rescue helicopter met the vessel about 13 nm off the coast at 0530 hours, and the two men were flown to a hospital at Ålesund. One individual, a Spanish national in his 70s, died shortly after. The second, a Philippine national in his 40s, passed way at a hospital at 0030 hours Sunday. According to Fjord Shipping, each of the two crewmembers left a wife and two children behind. The firm will assist the families in traveling to Ålesund.
After the accident, the ship berthed in Måløy, where the police conducted investigations and interrogated the crew. No technical defects have been detected on vessel or equipment. The tanker was released and left port the same day. As of Monday evening she was arriving at her destination of Erith, England.