Turkey's Vessel Operators Join Earthquake Relief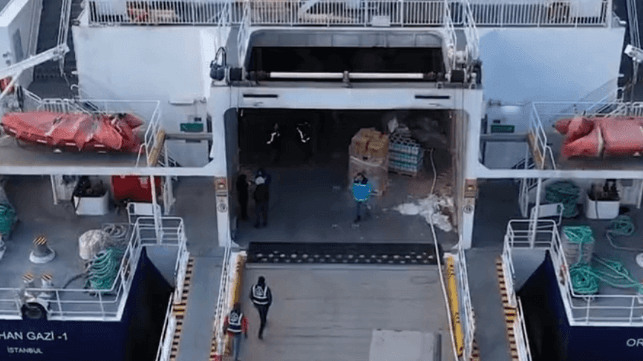 Karadeniz, the shipowner known best for its Karpowership floating power stations, is deploying two accommodations vessels to southern Turkey to assist residents displaced by the massive earthquake that struck the region last Monday.
The company said in a statement that it would be dispatching the "Lifeships" Suheyla Sultan and Rauf Bey to a port near the disaster zone. The vessels are fitted to provide for accommodations, food, healthcare, education and recreation for up to 1,500 people each, or 3,000 in total.
"Lifeships are on hand to provide for the people of Turkiye as we begin to heal our wounds and look to the future with hope," said Karadeniz.
It will be the first time that the vessels have been used for humanitarian aid, the company said.
Turkish merchant vessels and government vessels are already hard at work delivering aid cargoes to ports in the afflicted region. The Turkish Navy has deployed 24 ships to assist with the response, including two amphibs equipped to provide medical care, the TCG Bayraktar and the TCG Sncaktar. As of Sunday, these vessels have helped more than 400 earthquake victims.
Millî Savunma Bakan? Hulusi Akar'?n beraberinde Genelkurmay Ba?kan? Org. Ya?ar Güler ve Kuvvet Komutanlar? ile gitti?i TCG SANCAKTAR'da tedavi gören vatanda?lar?m?z? ziyaretinden görüntüler…https://t.co/LT7nbih73o#MSB #HulusiAkar pic.twitter.com/MdDVGSlUYA

— T.C. Millî Savunma Bakanl??? (@tcsavunma) February 12, 2023
The Istanbul Metropolitan Municipality has also sent help. The city transformed its two fast ferries into accommodations vessels, turning standard passenger-vessel interiors into dormitories and sickbays. The vessels got underway Saturday for Iskenderun, where they will be moored alongside.
Help is also on the way from overseas. Spain has dispatched two Spanish Navy warships, the amphibs Juan Carlos I and Galicia. Juan Carlos brings a task force of 500 marines and a fully-equipped shipboard hospital, and the Galicia is carrying a cargo of aid supplies. Spain is also sending a field hospital with 70 doctors and two surgical units for deployment in the disaster zone.
Meanwhile, the U.S. Navy's George H.W. Bush Carrier Strike Group has dispatched several helicopters to help with shoreside logistics in Turkey, according to U.S. 6th Fleet. The Navy has also assigned the fleet replenishment oiler USNS Kanawha to pick up two million gallons of fuel in Souda Bay, which will be delivered to southern Turkey to help power emergency relief operations in the region.