Turkey's President Still Sees Hope for Black Sea Grain Initiative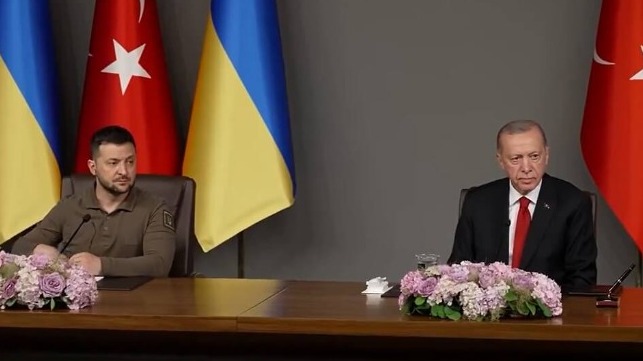 Turkish President Recep Tayyip Erdogan is bullish on the prospects for getting Russia to renew its participation in the Black Sea Grain Initiative, which expires on July 17.
In August 2022, six months after it implemented a naval blockade of Ukraine's ports, Russia agreed to allow bulkers carrying food to transit to the Bosporus - subject to strict conditions. Only designated ships would be allowed to make the voyage, and only if inspected on both inbound and outbound transits.
In recent months, Russia has been less and less willing to participate in the functions of the grain agreement, and since late June it has blocked approval of new vessels for transit. UN Secretary-General Antonio Guterres - who helped broker the deal last year - has expressed concern that Russia may exit. Russia's foreign ministry has all but confirmed it, saying Tuesday that it was "obvious there are no grounds" to continue the deal past July 17.
On Friday, UN humanitarian affairs chief Martin Griffiths warned Moscow not to walk away from the deal. "The world has seen the value of the Black Sea Initiative . . . this isn't something you chuck away," he told reporters.
Getting Moscow to stay at the table may be challenging. Russia has complained that its end of the deal has not materialized: It wants the resumption of ammonia exports via a Ukrainian pipeline, as well as a reconnection of access to the SWIFT international payment system for sanctioned Russian Agricultural Bank (Rosselkhozbank).
These are tough requests, but Turkish President Recep Tayyip Erdogan is still optimistic about the odds of negotiating with Russia. Erdogan has provided something of a bridge between the Kremlin and the West since the start of the war, maintaining diplomatic and economic ties with Russia while also supporting Ukraine. The Turkish president has regular contact with the leaders of both countries, putting him in a rare position to broker deals. He played a key role in securing the initial commitments for the grain initiative, and on Saturday he laid out a positive view of its future.
"Our hope is that it will be extended at least once every three months, not every two months. We will make an effort in this regard and try to increase the duration of it to two years," Erdogan said at a press conference, speaking alongside Ukrainian President Volodymyr Zelenskiy. "I hope we will get a result from this soon."
In the meantime, Ukrainian grain exporters are ramping up throughput on the Danube River route, anticipating that Russian disruption of the Black Sea Grain Initiative will be a fact of life whether the agreement is renewed or not. The UN-sponsored grain corridor has already slowed to one to two ships per day, and sometimes none; meanwhile, Danube River terminals like the one operated by Ukrainian agribusiness giant Nibulon are humming.
"Because we could plan things [via the Danube], we could sell the goods forward . . . Russia and the corridor and the setup they have do not provide this possibility," CEO Oleksiy Vadaturskiy told Reuters. "We decided to have a more expensive logistics route, but more secure route."