TS Taipei Salvage Effort Completed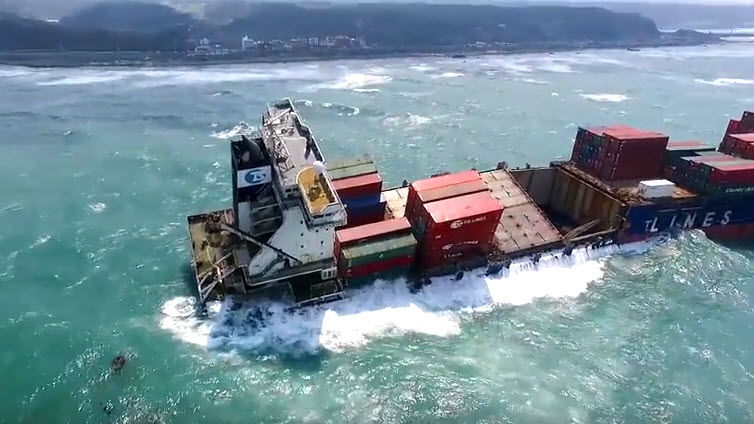 The removal of the wreck of the container ship TS Taipei from the shores of New Taipei City was completed over the weekend, local media reports.
The Taipei lost power and came to rest off New Taipei on March 10. Helicopter crews with the National Airborne Service Corps rescued all 21 crewmembers on board on the day of the grounding; shortly thereafter, during spill mitigation work, a Service Corps helicopter went down, killing two and seriously injuring one. The ship began to break up about two weeks after the grounding, and she eventually separated in two.
The forward section of her hull was towed off on Sunday, a week ahead of schedule, and was taken to Keelung. The stern was removed from the beach at the end of July. Both sections are to be dismantled.
There is still some work to do, though: smaller pieces of wreckage and a few containers remain at the site of the grounding, and the last of the salvage work is expected to be finished in a few days.
When she went aground, the ship reportedly carried about 70,000 gallons of fuel, plus lube oil and oily wastewater; a combined task force worked to lighter the pollutants and over 100 workers were dispatched to clean the beaches off New Taipei.
The oil spill cleanup was completed several months ago, but water quality monitoring will continue. The spill affected dozens of fishing boats and the vessel's owner, TS Lines, has paid out several hundred thousand dollars in compensation. The city is expected to file its own claim as well. Early estimates of the value of the environmental damages total to only $560,000.
Correction: An earlier edition of this article reported government statements indicating that Resolve and Nippon Salvage had been appointed to the salvage operation. A spokesman for Smit Salvage said that Nippon alone was involved in the first phases of the response, and Smit won a later contract to remove the cargo/vessel and debris. Smit is currently processing the remains of the wreck.