Trump Delays Tariff Hike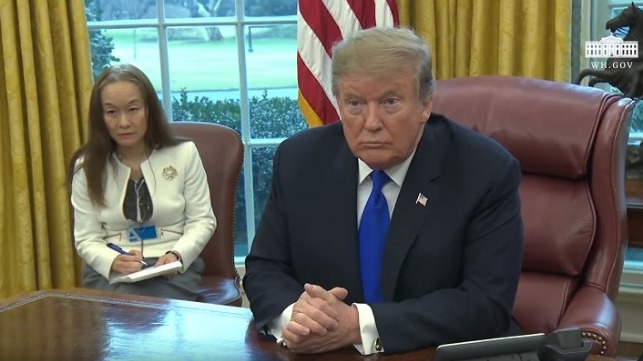 U.S. President Donald Trump said on Sunday that he would delay his planned increase in tariffs on Chinese goods after "productive" talks in China. Trump had planned to raise tariffs on $200 billion of Chinese goods from 10 to 25 percent on March 1 but now hopes to meet with Chinese President Xi Jinping to finalize a deal.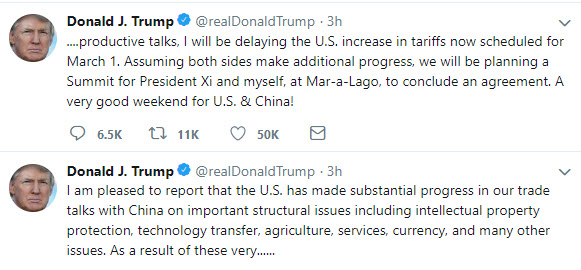 Reuters reported on Wednesday that negotiators from both nations were drafting memorandums of understanding on cyber theft, intellectual property rights, services, agriculture and non-tariff barriers to trade, including subsidies. Issues are still to be resolved in these areas, but sources told CNBC on Friday that China had committed to buying up to $1.2 trillion in U.S. goods.
Tariffs Hurt the Heartland, a nationwide campaign against tariffs supported by American manufacturers, retailers, technology and agriculture organizations, released a statement saying: "We are encouraged by this latest sign of progress and that the administration seems to have heard the concerns of U.S. businesses and farmers who simply cannot afford more tariffs.
"However, existing tariffs and shifting deadlines are still making it harder for Americans to plan for the future, invest and grow. As we have said repeatedly, we agree with the need to address China's unfair trading practices. But tariffs are ultimately taxes paid by American businesses, and that's why using them as leverage will always be a losing proposition. We need a solution as soon as possible that ends the tariff uncertainty once and for all and improves the U.S.-China trading relationship."
Tariffs Hurt the Heartland, in conjunction with the Trade Partnership, released a study this month that revealed administration tariffs cost U.S. businesses $2.7 billion in November 2018, the most recent month of data available from the U.S. Census Bureau. Earlier this month at a press conference on Capitol Hill with bipartisan members of the U.S. Senate, Tariffs Hurt the Heartland released a report prepared by Trade Partnership Worldwide LLC that found that American workers would lose nearly one million U.S. jobs if tariffs increased on March 1.
The National Retail Federation has also welcomed the delay. President and CEO Matthew Shay said: "We welcome the progress made between the U.S. and China and commend the administration for its efforts to address unfair trading practices. The decision to avoid a tariff hike is a positive development, and we encourage the administration to build on this momentum and reach a resolution that will eliminate uncertainty for American businesses and consumers. We look forward to continued progress and an agreement that will end tariffs and achieve a more fair and balanced trading relationship."