Trial of WindWings Begins on Bulker as Cargill Tests Wind Power Technology
Agribusiness giant U.S.-based Cargill reports that it has begun the next in a series of tests on wind-assisted propulsion with the completion of the installation of two BAR Tech WindWings aboard an 80,000 dwt bulker. The vessel, the Pyxis Ocean, departed the shipyard after the installation of the technology and will begin transporting dry bulk cargo in mid-September deploying the technology. It is one of several tests Cargill has underway with different technologies designed to reduce emissions.
The six-year-old bulker was retrofitted with two WindWings each of which stands more than 120 feet off the deck of the 751-foot vessel. Registered in Singapore, the ship is owned by Japan's Mitsubishi Corporation operating under long-term charter to Cargill. The sails are placed on the starboard side of the vessel not to interfere with cargo operations and fold down when the vessel is maneuvering and in port.
The project was announced in April 2021 working in conjunction with BAR Tech, a UK-based design and engineering consultancy that was set up to commercialize technology initially developed for a British America's Cup racing team. BAR is in partnership with Yara Marine Technologies to build the wind technology. The test which is a prototype meant to further commercialize the technology is being co-funded by the European Union as part of the CHEK Horizon 2020 initiative.
The retrofit of the Pyxis Ocean was completed at the COSCO shipyard in China. The vessel departed Shanghai on August 1 and is due to reach Paranagua, Brazil on September 15. She will load a cargo likely of corn which will be transported to Denmark. Cargill reports the Pyxis Ocean will initially sail on the Atlantic where it will be able to take advantage of the stronger winds during the trail.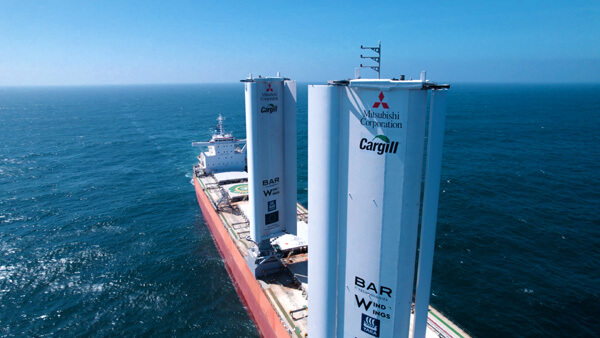 According to the companies, the performance of the sails will be closely monitored as they look to further improve the technology and its operation. BAR Tech reports that it expects the WindWings could generate up to a 30 percent average fuel saving on newbuilds, which could be further enhanced by the use of alternative fuels. BAR looks to learn from this the first deployment of its technology on a large commercial ship to further improve its design, operation, and performance. BAR reports it is also researching newbuilds with differing hydrodynamic forms.
"A technology like WindWings doesn't come without risk, and as an industry leader – in partnership with visionary shipowner MC Shipping - we are not afraid to invest, take those risks, and be transparent with our learnings to help our partners in maritime transition to a more sustainable future," said Jan Dieleman, President of Cargill's Ocean transportation business.
Cargill Ocean Transport is a leading charterer of dry bulk vessels with 650 to 700 vessels a year. The company says its vessels make more than 4,000 voyages transporting around 225 million tons of dry and wet bulk commodities annually.
Speaking during an interview with the Financial Times, Dieleman said they were committed to using wind-assisted propulsion saying he believes that wind power was "underestimated." He urged other shipping companies to also explore the technology but admitted it is unlikely the company will get its money back from this project. He called the installation "a proof of concept."
Clarkson Research notes that the use of wind-assisted propulsion remains low. They reported that there are currently less than 100 vessels on order to use wind technologies but that use of the technology doubled in the past year.
Cargill began exploring the use of wind-assisted propulsion more than a decade but admitted to the Financial Times the prior effort "encountered obstacles." Last week, Tufton also reported that in June it completed the installation of rotor sails aboard the 82,000 dwt Kamsarmax bulker TR Lady. The vessel recently sailed for Australia and also operates under charter to Cargill. NYK and Cargill also recently announced plans to test a wind foil technology on another bulker.
Wind-assisted propulsion is one of several efforts Cargill is undertaking to reduce its carbon emissions from shipping. Working with shipowners, they have also tested biofuel and earlier this year reported the order of the first bulkers designed to operate on green methanol. For inland shipping, the company recently launched a battery-powered pusher boat operating in the waterways in the Netherlands. Cargill's target is to reduce emissions by 30 percent by 2030 as it works toward net zero from all its transportation operations.