Trafigura Proposes Another Crude Terminal Off Texas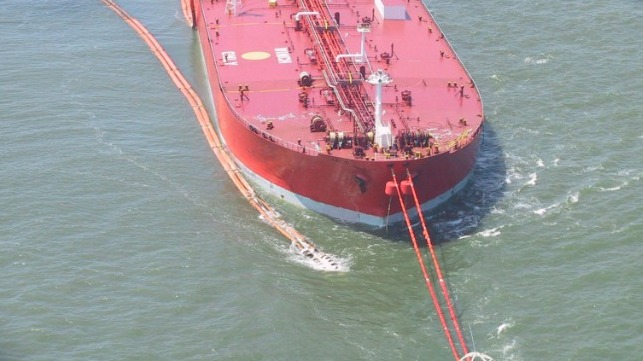 Swiss trading house Trafigura has announced plans to build an offshore crude oil terminal 15 miles off the port of Corpus Christi, Texas. The proposal would allow the company to bypass draft restrictions in the port's shipping channel and fully load VLCCs, without waiting for the completion of a planned harbor deepening project. It is the second proposal for an offshore crude oil terminal off Texas in a month, following a similar plan announced by Enterprise Product Partners.
Trafigura's Texas Gulf Terminals Project would load tankers directly via a single-point mooring buoy system (SPM) similar to the Louisiana Offshore Oil Port, which is presently the only American terminal capable of fully loading VLCCs. Trafigura says that using SPMs would reduce ship traffic in inland ports and cut down on "double handling" operations, in which large tankers are loaded by ship-to-ship transfers from smaller tankers in designated transfer zones. The FT reports that Trafigura's terminal would have a capacity of about 400,000 bpd, enough to load a two-million-barrel VLCC every five days. Enterprise's competing plan would have the capacity to load a VLCC in 24 hours.
"The Texas Gulf Terminals Project will give U.S. crude oil producers, particularly Texas operators, safer, cleaner and more efficient access to very large crude carriers, ensuring that the economic and employment benefits of increasing domestic crude production can be fully realized right here at home," said Corey Prologo, Trafigura's director for North America.
American crude oil production has soared in recent years, with new extraction technologies and cost-cutting measures enabling rapid growth, especially in Texas' Permian Basin region. Exports currently stand at two million bpd and are expected to rise to as much as five million bpd within four years, leaving traders and producers looking for more ways to get their oil to market. According to the EIA, the inability to fully load VLCCs at Gulf Coast ports (except LOOP) impacts the price of American oil abroad, since U.S. producers have to "compensate for the lower economies of scale and costs associated with reverse lightering and partial loadings."