Tour Boat Left High and Dry in Grounding in Columbia Bay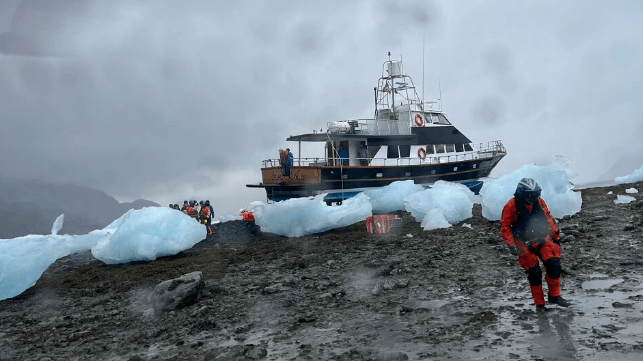 Last week, U.S. Coast Guard aircrews rescued the passengers and crew of a tour boat that had gone aground on a shoal in Columbia Bay, home of Southeast Alaska's Columbia Glacier. The vessel was high and dry, so all personnel were able to safely disembark onto solid ground for an aerial evacuation.
At about 1635 hours, U.S. Coast Guard Sector Anchorage picked up VHF radio traffic from a ferry, the Aurora, which was communicating with a vessel in distress. Using Aurora as a relay, Sector Anchorage watchstanders learned that the glacier tour boat Lu-Lu Belle had gone aground in Columbia Bay with a complement of 19 people on board.
The Coast Guard dispatched two helicopters and a response boat to the scene to assist the vessel. At low tide, the promontory had enough space for the helicopter aircrews to land on it and pick up all of the passengers and crew, except for the captain. The rescue was completed safely by 2125 hours.
"The safe and effective rescue of every passenger on the Lu-Lu Belle is a testament to the attentiveness of our watch standers and readiness of our response crews from all of our units. We are also extremely grateful to the crew of the Aurora and the City of Valdez Fire Department, Building Maintenance, and Harbor staff, whose efforts were instrumental in the success of this case," said Cmdr. Scott Farr, the SAR coordinator for Sector Anchorage.
The Lu-Lu Belle's master stayed aboard the boat overnight, awaiting the return of high tide. The tidal range in Valdez is typically 14 to 20 feet, giving plenty of scope for a large shoal to cover and uncover. The vessel was refloated the next day.
The Coast Guard is conducting an investigation into the cause of the casualty.
Lu-Lu Belle is a classic 75-foot tour boat billed as the "limousine of Prince William Sound." The vessel's owner and master has been operating tours of the bay since 1979, according to the firm's booking site, and the glacier face has moved by about 14 miles over the same period.