TOTE Pushes Back LNG Conversions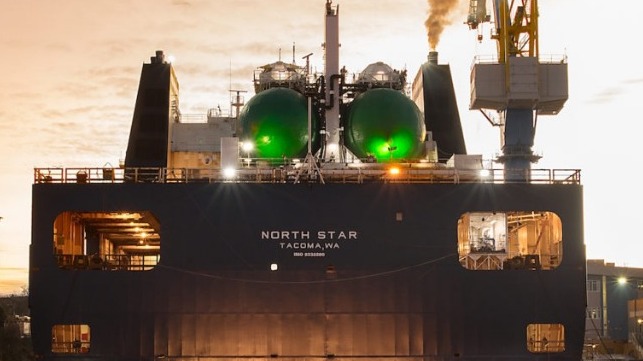 On Monday, Washington-based shipping company TOTE Maritime announced that it has pushed back the conversion of its two Orca-class ships to LNG propulsion.
The ro/ro Midnight Sun was slated to undergo a brief drydocking in late 2018 for the first phase of the conversion, but this work period has now been delayed until late 2019. The Sun's sister ship, the North Star, already completed "phase one" of her conversion this February, and she will now wait until the end of 2020 for phase two. Midnight Sun's phase two yard period will occur at the end of 2021.
The conversion process has already been delayed by several factors, including the loss of the El Faro and the scrapping of her sister ship El Yunque. The two Ponce-class ships were due to take over the Tacoma-Alaska run in order to make time for the Orca-class conversions.
While not related, the announcement of the one-year delay follows after Washington State regulators launched another environmental review for a planned LNG bunkering plant in Tacoma, the Puget Sound Energy Liquefied Natural Gas facility. The plant is the only natural gas liquefaction terminal in the Pacific Northwest to begin construction, and it is the planned LNG fueling point for TOTE's Orca-class ships.
In a notice provided to facility developer Puget Sound Energy in January, the Puget Sound Clean Air Agency said that it has decided to conduct a supplemental study of all greenhouse gas emissions associated with the LNG plant's operations, from resource extraction through transport, liquefaction and combustion. A consultant's report is due by September 30; a public comment period will be open until November 15; and the final environmental impact statement will be completed by February 1, 2019. Once this process is complete, the agency will resume work on Puget Sound Energy's emissions permit request. In all, this "supplemental environmental impact statement" process adds about one year to the agency's permit review.
Puget Sound Energy's LNG plant is a controversial project. The local Puyallup tribe, a coalition of environmental groups and many local residents are against its development, and opponents hold regular protests at the construction site's gates. In December, two protesters climbed a crane boom and chained themselves in place. "I care about climate change and want to have a future for my grandchildren," explained climber Steve Way, 72, speaking to local TV news outlet KING-5. Way and his accomplice, Carlo Voi, 52, were taken into custody on suspicion of malicious mischief and criminal trespassing.
The project's proponents point to LNG's improved emissions profile relative to HFO - minimal SOx, substantially less NOx, almost no PM and a reduction in GHG - and the fact that natural gas evaporates in the event of a spill. "This has been through a very long, years' long public process," said Port of Tacoma director of communications Tara Mattina, speaking to Seattle Times. "We are disappointed . . . I just don't understand this argument that this is somehow harmful to water or air quality."