Total Invests in New Arctic LNG Plant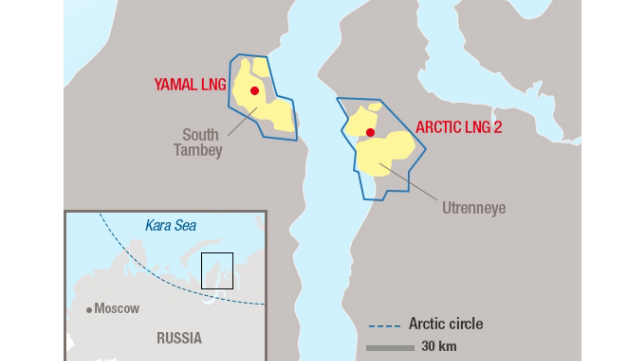 French oil major Total is pulling back on its investment in Iranian E&P projects due to American sanctions, but on Friday, it announced that it is increasing its presence in Russia, where another set of American sanctions have curtailed most Western involvement in petroleum projects.
On Friday, with Russian president Vladimir Putin and French president Emmanuel Macron in attendance, Total signed an agreement with Russian energy firm Novatek for a 10 percent interest in the next phase of gas export infrastructure along the Gulf of Ob. Total was an early investor in the Yamal LNG project, Novatek's first export plant in the Arctic region, and it will now invest in a new 20 mtpa plant on the other side of the gulf, which will be called Arctic LNG 2.
"This project fits into our strategic partnership with Novatek and also with our sustained commitment to contribute to developing the vast gas resources in Russia's far north which will primarily be destined for the strongly growing Asian market." said Patrick Pouyanné, Chairman and CEO of Total. "Arctic LNG 2 will contribute to our strategy of growth in LNG by developing competitive projects based on giant low costs resources."
According to Total, the plant will be built on marine infrastructure. The plan calls for three "gravity-based structures" in the Gulf of Ob, each of which will support a 6.6 mpta liquefaction train. If the plan receives a positive final investment decision and proceeds on schedule, it would begin production in late 2023, and would draw on seven billion boe of hydrocarbons resources in the onshore Utrenneye gas field.
Like with Yamal LNG, icebreaking LNG carriers will transport the plant's product to markets in Europe and Asia. The operator of these vessels will likely be different, however: Novatek recently announced that it intends to start its own shipping division to handle its own transportation, rather than contract additional capacity from Sovcomflot. "The establishment of our own transport company fully corresponds with our goals and allows us to . . . enhance competitiveness of Novatek's Arctic projects," said CEO Leonid Mikhelson in a statement.