Top Cruise Executives Offer Positive Assessment of Industry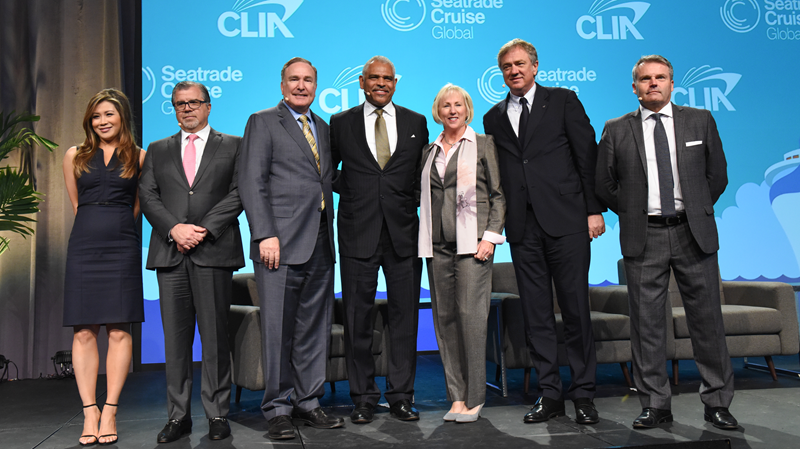 CLIA president and CEO Cindy D'Aoust opened the 2017 State of the Industry in Fort Lauderdale today telling the crowd that the industry has grown 62 percent since 2007.
She offered that in 2016, the industry generated more than $30 billion in revenue for operators as more than 25 million passengers boarded a ship to take cruise vacation. The industry also had a global economic impact of $117 billion and now employs over one million people.
Among the State of the Industry panelist included Arnold Donald, president and CEO of Carnival Corp; Richard Fain, chairman and CEO of Royal Caribbean Cruises; Frank del Rio, president and CEO of Norwegian Cruise Lines Holdings; and Pierfrancesco Vago, executive chairman of MSC Cruises.
The event took a different approach this year as each executive addressed a specific segment of the industry. Donald spoke to technology and innovations, Fain reviewed environmental concerns and safety, del Rio discuss the importance of destination planning, and Vago talked about shipbuilding and future ship designs.
Susan Li of CNBC, moderated the State of the Industry. She is a special assignment reporter for the financial channel. She was anchor for CNBC London and earlier hosted a number of shows in the company's Hong Kong studios.
The executives agreed the industry is expanding, especially in China, which could double the size of the industry over the next decade. Today, the industry has more than $51.7 billion in new ship orders and the 74 new ships, are scheduled to enter the market during the next ten years. Vago of MSC offered that 23 of the ships will be less than 100 gross tons, 45 between 100-200 gross tons and six are over 200 gross tons.
While the Trump administration is pro-business, the executives agreed the cruise industry is not an isolated business and that governments around the world, including the U.S., could have an impact of the industry.
The state of the industry is in excellent financial health and the future is on a record course of expansion.