To Save Ukraine's Ag Exports, UDP Wants More Port Capacity in Romania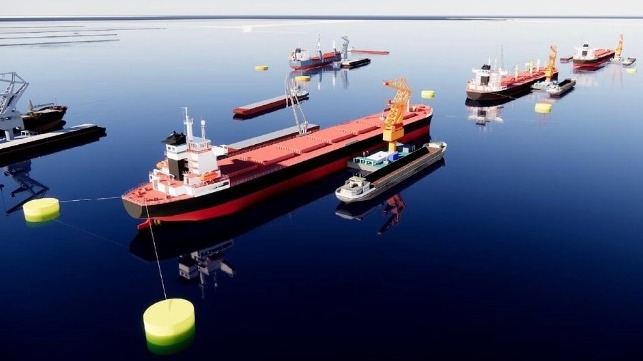 Ukraine's largest grain-shipping company is calling on the Port of Constanta to let it expand the capacity for barge-to-ship transfers at an anchorage in Romanian waters, circumventing some of the limitations and security concerns at Ukraine's own seaports.
Ukraine's Danube Shipping Company (UDP) has provided the nation's farmers with a critical lifeline for their exports during the Russian blockade of Odesa. Though essential to the national economy, UDP's ability to maintain volume is in doubt: its infrastructure has taken a heavy hit after repeated Russian drone strikes on Izmail and Reni, the key Ukrainian ports on the northern branch of the Danube. The strikes also destroyed the company's headquarters building.
To offset the impact of these attacks, UDP is petitioning the Port of Constanta to open up more room for barge-to-ship transfers inside the port's breakwater.
In addition to providing Ukraine with a secure terminal facility in NATO waters, the new capacity would also restore access to the deep-draft Panamax bulkers which have historically carried Ukraine's grain cargo to far-flung customers. These large ships cannot reach the northern branch of the Danube, which can only accommodate coastal vessels of up to about 10,000-15,000 dwt.
Barge-to-ship transfers using crane barges are common for Black Sea port operations, and were a fixture at Odesa for years before the war. UDP would like the port authority at Constanta to authorize a new dedicated mooring area for STS capacity inside of the port's southern breakwater. The anchorage area would have enough space for three bulkers at a time, with ample water depth for seagoing vessels. According to UDP, this arrangement could nearly double Constanta's grain barge throughput from 600,000 tonnes to 1.1 million tonnes per month.
Constanta depends primarily on its shoreside grain terminals for export loading capacity. According to UDP, these terminals are overloaded with Ukrainian grain. Barge wait times to unload can be as long as two months, and there are currently 600 barges waiting in the port, the company said. This has become a limiting factor for Ukrainian grain exports.
UDP has been skipping the grain terminals in favor of limited STS operations in Constanta's harbor, and has sped up its rotation for barge transits to just 22 days. This could go even faster if Constanta had more STS capacity, the company said.
"The project does not threaten the owners of the terminals, because it is an additional export flow from Ukraine, which today simply does not enter Constanta," argued UDP in a statement.
The company is negotiating with the port authority, but it has not been receptive to the idea so far, according to UDP. The firm reportedly has support from Jim O'Brien, the US State Department's sanctions coordinator, as well as Ukrainian Vice Prime Minister Oleksandr Kubrakov, reflecting the top-level political importance of securing Ukraine's seaborne export routes.