Thank-You to the Charities that Support Seafarers
As 2018 draws to a close, another case of an abandoned crew emerges - the abandoned crewmembers of the Evangelia M have returned home to the Philippines after six months in an Indian port. Throughout the year, MarEx has brought you news of abandonment cases and of the good work done every day by maritime charities. We would like to thank all those people who have helped seafarers in 2018.
Abandoned in India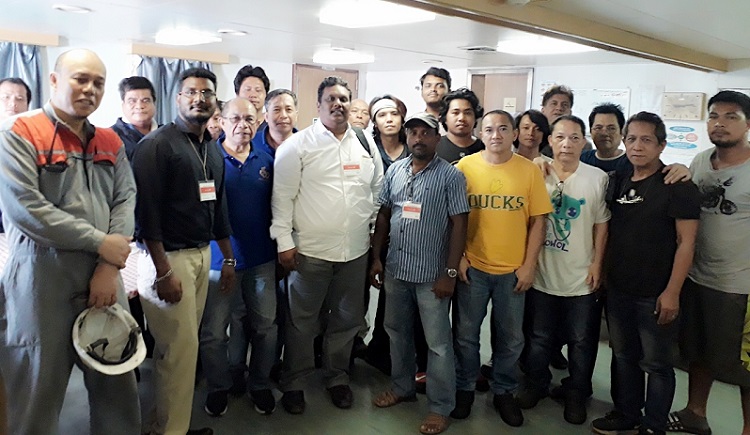 The Indian seafarer welfare board (ISWB) and Sea Mission International have worked to ensure that the 21 abandoned crew members of Liberia-flagged cargo ship Evangelia M returned to their home in the Philippines. The men were abandoned for almost six months at Port of Kakinada, India.
The ISWB says the seafarers were abandoned by the vessel owner Sea Majesty Incorporated, Liberia, and managers Athenian Ship Management, Greece. The mariners were without wages, basic provisions, fuel and essential first aid supplies. However, the Port Welfare Committee of Andhra Pradesh and Sea Mission International provided provisions and drinking water to crew members.
The Captain and crew expressed their thanks to Captain Shailesh Tiwari of the ISWB and N. Reuben Paul, N. Ravindra Babu, Sea Mission International, Centre for Seafarers and Maritime Workers Union (Member of ISWAN, UK), FSUI, Port Welfare Committee of Andhra Pradesh and Philippine Embassy for their efforts.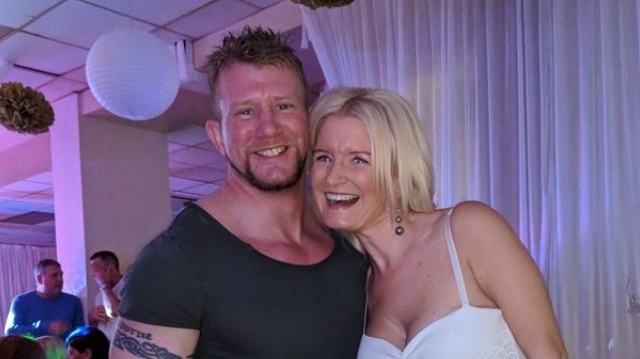 The family of one of the British maritime security guards held in Chennai prison, India, during the four year Seaman Guard Ohio case which started in October 2013, has thanked the charity Human Rights at Sea for their work alongside many other organizations, State authorities and individuals who collectively supported their fight for justice.
The men, who collectively became known as the Chennai 6, were released in November 2017 alongside the other members of the crew.
Read more here: Chennai 6 Family Thanks Human Rights at Sea
Abandoned in Africa
It's the second year in a row that seafarers Captain Asmael Alsarwt and Seyed Nasr Soltan are stranded, abandoned by their ship's owner in a port thousands of miles from home.
Initially abandoned on their vessel the PSD2 in Mozambique's Beira port in 2017, the ship sailed to Durban in South Africa, where it was once again abandoned and has remained ever since.
The men have received food, medical supplies and emotional support from the Sailors' Society's Crisis Response Network. They asked for fishing rods so they could be partially self sufficient, and these were also provided.
Read more: Two Seafarers Abandoned in African Port
Abandoned in the UAE
The U.K.-based charity Human Rights at Sea has documented a case of 40 seafarers abandoned in dire circumstances in the UAE.
The charity was contacted by crew members from three Dubai-based Elite Way Marine Services EST vessels. They sent an urgent appeal for help. Their vessels, the deck cargo vessels Azraq Moiah and Tamim Aldar and the offshore supply vessel Al Nader, are at anchorage at the port of Sharjah in the UAE.
The seafarers say that food and medical supplies are running low. Dock supplies are scarce, and the seafarers have to cook on top of a self-made burning fire pit. Some have been on board for over two years, without pay for over one year, without shore leave and without communication with their families.
Read more here: Forty Seafarers Abandoned in UAE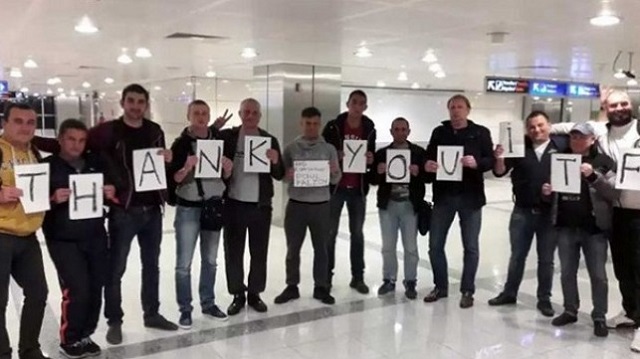 A legal dispute has left 15 Indian seafarers and one Pakistani seafarer stranded onboard a tanker off the UAE for over a year. Meanwhile, another 16 Ukrainian seafarers who were stranded off Casablanca have now been paid and repatriated.
The crew of the Panama-flagged tanker MT Zoya 1, currently moored 15 miles off the UAE, have not been paid for four months. Their passports have been in the possession of UAE authorities since October 1, 2017 following a legal dispute with shipowner ECB International. Ship managers Aurum Ship Management has asked the owner to pay salaries and port fees as soon as possible, but the request has not been actioned. The men are being provided with food and water, and Indian diplomatic missions are currently working with local authorities to help resolve the situation.
Two of the crew have tried to commit suicide: one, as his family's sole caretaker, is fearful for his seriously ill mother.
Read more here: Sixteen Abandoned Seafarers, and Sixteen More
Abandoned in Iran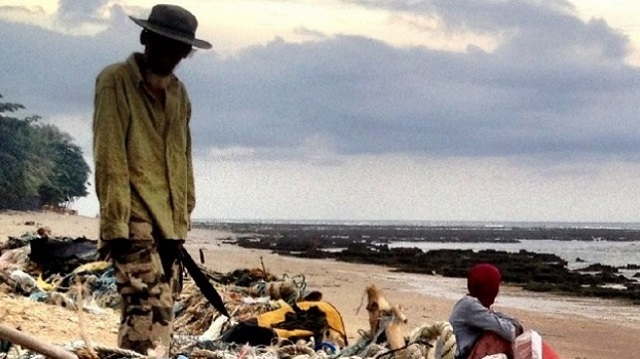 After the actions of human rights charity Justice Upheld, 17 seafarers abandoned by various maritime companies on Kish Island in Iran have been rescued. None had been paid for over two years.
Their case has been highlighted by the charity Human Rights at Sea, which notes the men were afraid to reveal details of the companies involved out of fear of reprisal.
Read more here: Seventeen Abandoned Seafarers Rescued in Iran
Post-Trauma Support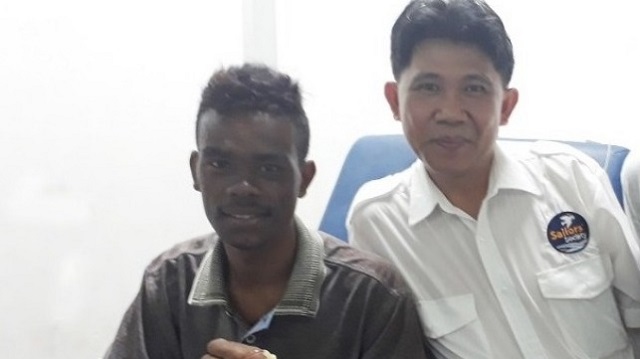 A seafarer has survived six days in the open sea after the ship he was on sank in the Bali Strait.
Indonesian Nahum Naibahas, 26, known as Riski, was on board the Multi Prima, which sank when it was hit by two-meter high waves on November 22. The vessel was transporting building materials and animal feed from Surabaya to Waingapu at the time.
When he was picked up, Riski was very weak. He had been attacked by a seabird, bitten by fish and was severely sunburnt from being in the sea for so long.
Harry Rumagit, a chaplain from international maritime charity Sailors' Society, has been supporting Riski since his ordeal: "He had almost given up hope, as for three days it rained solidly. Despite not having any food or water, Riski didn't give up, and it's an absolute miracle that he has survived."
Read more here: Seafarer Survives Six Days in the Sea
Every-Day Support
Half a million seafarers have benefited from an app that helps them as they move from port to port around the world, according to the charity that invented it, Sailors' Society.
The International Christian Maritime Association (ICMA) Ship Visitor app is used internationally by 10 maritime welfare organizations that provide chaplaincy to seafarers who are far from home.
Read more here: Half a Million Seafarers have Benefited from App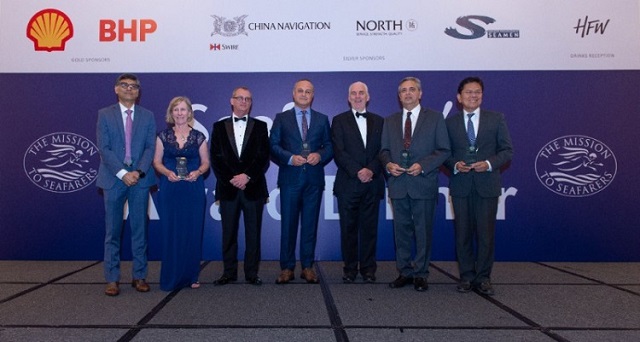 International seafarer welfare charity The Mission to Seafarers announced the winners of its inaugural Seafarers Awards at a dinner in Singapore on May 11.
The Award winners were chosen by judges Capt Kuba Szymanski - Secretary General of InterManager, Marlon Roño - President and CEO of Magsaysay People Resources Corporation, Esben Poulsson - Chairman of The International Chamber of Shipping, and The Revd Andrew Wright - Secretary General of The Mission to Seafarers.
The awards were made to seafarers and operational staff who made a significant contribution to the welfare of others.
Read more here: The Mission To Seafarers Honors Welfare Champions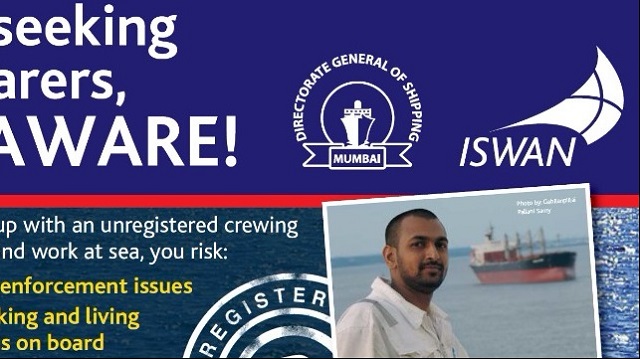 The maritime charity ISWAN is launching a new campaign to discourage Indian seafarers from signing up with crewing agencies which have not registered with the Directorate General of Shipping.

Every year, thousands of Indian seafarers join merchant shipping through unregistered crewing agencies. Many of them have been left stranded outside India or not been paid their wages. Some have even fallen into the trap of working on a ship carrying illegal cargo, and have had to spend a considerable amount of time in prison, most likely through no fault of their own.
Additionally, seafarers with unregistered crewing agencies will not be able to appear for higher grade examinations conducted by the Mercantile Marine Department of the Directorate General of Shipping. All these difficulties affect not only the seafarers themselves but also their families, who can find themselves financially at risk without a reliable income upon which to survive.
Read more here: ISWAN Campaigns Against India's Unregistered Recruiters