Ten Missing After Collision Near Shanghai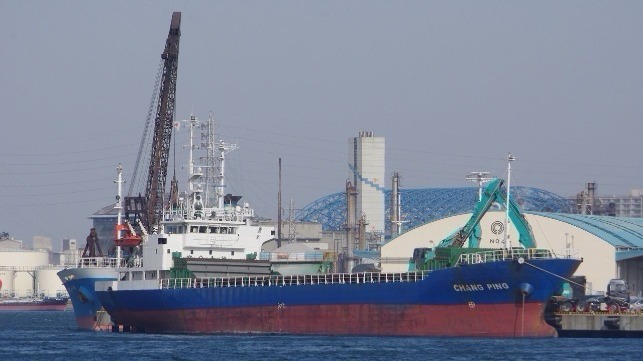 Late on Tuesday night, the 1,500 dwt freighter Chang Ping collided with the bulker Xinwang 138 at an anchorage near Shanghai's Wusong passenger terminal. The Xinwang suffered relatively minor damage, but the Chang Ping went down shortly after the accident.
A rescue boat arrived on scene within minutes of the collision and hree of the Chang Ping's 13 crewmembers were rescued, but ten more remain missing. A helicopter and 13 surface craft are involved in an ongoing search, and divers hope to search the wreck's hull if conditions allow. As of January 3, river currents were too strong to allow a dive team to enter the vessel.
"The freezing weather is threatening those stranded in the water. We will be speeding up during the first 72 golden hours," an official told Global Times.
SAR divers found a forty-square-foot hole in the vessel's hull, and authorities told Xinhua that with such a large penetration she would have gone down quickly. Unconfirmed reports from Chinese media indicate that the Chang Ping was preparing to get under way with a load of 5,000 tonnes of steel; if correct, this cargo would have exceeded her deadweight capacity. An investigation into the circumstances of the casualty continues.
The 1994-built Chang Ping was flagged in Sierra Leone and owned by a small firm in Hong Kong. She was detained twice in the last three years for inspection deficiencies, including problems with the water/weathertightness of her deck covers. Her most recent inspection was on October 30 in Osaka, where PSC officials found issues with her watertight covers and main propulsion, among other issues. A previous inspection in July found problems with load lines, structural conditions, bulkhead corrosion and water/weathertightness of ventilation systems.
Her last AIS signal was received east of Shanghai on December 30.