Tallink's Star Chartered to Become Largest and Fastest Irish Sea Ferry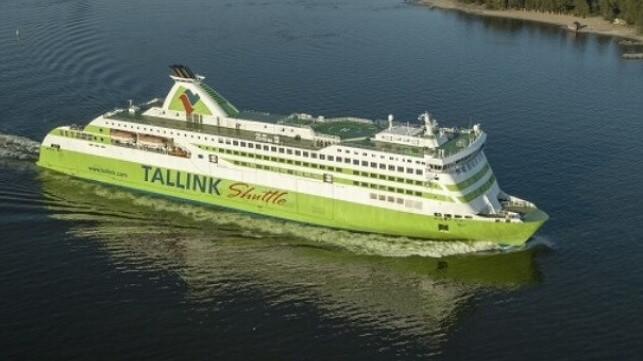 Irish Continental Group, which operates ferries, Ro-Ros, and containerships, announced plans to add the largest and fastest cruise ferry to the Irish Sea starting in June. The addition of the vessel, which will be on a long-term charter from Tallink Grupp, reflects the strong rebound in passenger demand and profitability for the company in 2022.
The cruise ferry Star will begin a bareboat charter from Tallink to Irish Continental as of May 5, 2023, providing future employment for the vessel which had been replaced on its current route between Helsinki and Tallinn by Tallink's newer ships. The initial charter period is for 20 months and can be extended for two two-year periods. Irish Continental also has a purchase option for the vessel.
Built in Finland, the 36,249 gross ton ferry was considered revolutionary both for its size and amenities when it was introduced in April 2007. It operated consistently on the route between Finland and Estonia. Its final trip is scheduled for May 1. Irish Continental plans to introduce her in June as the Oscar Wilde.
The cruise ferry offers several advantages including a top speed of 27.5 knots which permitted it to make its trips in approximately two hours and which Irish Continental cites as one of the benefits of adding the new ship to its route between Rosslare in southeast Ireland and Pembroke in Wales. They are also highlighting that it will have the largest duty-free shopping area (more than 17,000 square feet) on the Irish Sea.
"We have been looking for alternative work for our vessel Star for some time now, and the search became more focused as the arrival of our new shuttle MyStar drew closer last year," said Tallink Grupp's CEO Paavo Nõgene. "There has been great interest in chartering her over the years and I am pleased we have secured a good agreement for her now with Irish Continental Group."
After the introduction of the MyStar ferry, Tallink offered a new service aboard the Star, a concept they called shuttle light. The vessel was slowed taking approximately 2.5 hours for the trip and onboard services were reduced.
"We are delighted to announce the addition of the Oscar Wilde to our fleet," said Andrew Sheen, Managing Director of Irish Ferries. "This new ship will be a fantastic addition to our service, offering passengers and freight drivers the very best in terms of comfort, speed, and amenities."
The 610-foot long ferry has 131 cabins with beds for 520 passengers and a total capacity of 2,080 passengers. It will be used to replace the smaller Blue Star 1 (29,858 gt), which Irish Ferries has been operating on charter since 2021 from Attica Group of Greece's Blue Star ferries. The new vessel provides the opportunity to expand both passenger and freight service during the busy summer season. The new vessel has over 2,380 lane meters for passenger cars, buses, and freight. Onboard amenities include freight drivers' facilities, self-service and à la carte restaurants, a bar, gaming areas, pet facilities, and a children's play area.
Irish Ferries reported that its passenger counts rose nearly 100 percent in 2022 as the business rebounded with especially strong growth on its routes to France. Car volume was still nearly a quarter behind 2019, but was up nearly 150 percent to over 4.1 million vehicles in 2022. The ferry division produced approximately $400 million in revenues or more than two-thirds of the company's sales as both the ferries and the overall company returned to operating profits for the first time after the pandemic. The company expects strong continued growth for the ferry operations.